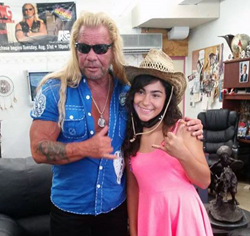 This was a once-in-a-lifetime trip for Yasmin, and it never would have happened without Kids Wish Network.
Arlington, Va. (PRWEB) September 19, 2014
Even though her smile was hidden behind a necessary respiratory mask, you could still see the sparkle in Maria Canales's eyes as she meet her idol, Duane "Dog the Bounty Hunter" Chapman for the first time. The 12-year-old from Virginia was able to meet Mr. and Mrs. Chapman on her wish trip granted by children's charity Kids Wish Network.
Kids Wish Network is a charitable organization dedicated to infusing hope, creating happy memories, and improving the quality of life for children having experienced life-altering situations. Maria, whom everyone refers to as Yasmin, qualified for the charity's wish-granting program which offers once-in-a-lifetime experiences to children suffering from life-threatening illnesses.
Yasmin was diagnosed with chronic lung disease and cystic fibrosis when she was only 18 months old. Both chronic disorders greatly affect her lungs and respiratory system to the point of frequent hospitalizations. At the age of 2, Yasmin's doctors discovered part of her right lung was severely damaged, and she underwent a lobectomy that removed part of her right lung; Yasmin remained in the hospital for three months.
She has since undergone multiple surgeries and medical procedures but the 12-year-old's battle is a day-to-day struggle. Currently on 17 medications per day, Yasmin also uses a vest to administer percussion chest therapy. Even something as simple as a cold can put her in the hospital for weeks. She also recently had her lungs cauterized when she began coughing up blood.
Despite dealing with her medical issues, Yasmin is an inspiration to everyone she meets and maintains a positive attitude. When she finally got to meet her inspirational idol, it was a dream come true. Yasmin and her family traveled to Hawaii where they experienced all the tropical culture and met the Chapman's at their popular store.
"This was a once-in-a-lifetime trip for Yasmin, and it never would have happened without Kids Wish Network," recalls her mother Heather. "I've never seen her so happy and healthy; her smile was amazing and her spirits were higher than ever. Words could never express our gratitude, we can't thank you enough."
"It was such an honor and pleasure to meet Yasmin and her family. She's a beautiful young lady with a bright future ahead of her because she's a real fighter," said Chapman. "I'm always very humbled when a child chooses to meet for his or her big wish- it brings me to tears. She said I'm an inspiration to her, but she's really the one who inspires everyone around her. I want to keep in touch, and let me know how she's doing. Beth and I will always keep her in our prayers."
Kids Wish Network would like to thank all the generous sponsors that helped grant Maria's wish: The Sheraton Waikiki, Germaine's Luau, Dole Plantation, Duane and Beth Chapman, Ikaika Communication, Enterprise Rent-A-Car, Bubba Gump Shrimp Co., California Pizza Kitchen, and The Cheesecake Factory.
For more information about Kids Wish Network, please visit http://www.kidswishnetwork.org