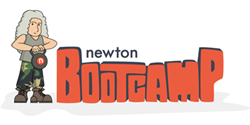 We have programming lined up through the end of 2015 including sessions from our own product and support teams as well as outside labor lawyers, compliance experts, process gurus, data junkies, recruiting partners and more
San Francisco, CA (PRWEB) September 24, 2014
Newton, the leading provider of applicant tracking systems and hiring software for small and medium-sized employers, announced today that they have created a free monthly bootcamp series for users of their applicant tracking software. Additionally, Newton's team has partnered with recruiting leaders and subject matter experts in related HR-centric industries to extend programming to the corporate recruiting and HR community several times a year.
Plans for upcoming Newton Bootcamps include:
-Newton ATS functionality work sessions covering topics such as: job and offer approval processes, advanced analytics capabilities, new "cloud apply" functionality and new advanced interview scheduling capabilities
-Newton preferred partner capabilities: background check partners, recruiting partners, HRIS and payroll partners
-Recruiting-centric educational series related to recruitment compliance, recruiting process improvement, recruiting analytics and more
"Our technology is specifically designed to operationalize corporate recruiting processes. That said, we look at Newton as a services company as much as it is a technology company. Customers rely on our expert support and professional services teams to solve hard recruiting-related process problems all the time. It is a win-win for us to tap our own subject matter expertise and that of our awesome partners. This provides our user community and the extended community of corporate recruiters and HR professionals with valuable information in an easily consumable, fun format," says Joel Passen, Newton's Head of Marketing and Co-Founder.
"The agenda for our Newton Bootcamps primarily comes from suggestions made by our users, over 40,000 people involved in hiring. Much like we do with our product features, we listened to our customers' ideas and we ran with them. We have programming lined up through the end of 2015 including sessions from our own product and support teams as well as outside labor lawyers, compliance experts, process gurus, data junkies, recruiting partners and more," Passen goes on to say.
Newton was founded by corporate recruiters who continue to make up the executive team serving in leadership roles in nearly every facet of Newton's operations including product management, customer success, sales and marketing. Newton will tap its own recruiting industry experts as moderators. panelists and presenters for Newton Bootcamps and will work alongside premiere industry subject matters experts to develop and present valuable content specific to the recruiting and HR community.
To be alerted about upcoming Newton Bootcamps that are open to the public, please visit: http://eepurl.com/3x505
About Newton:
Newton is an applicant tracking system designed to organize and improve internal hiring programs for small and medium-sized employers (30-3000 employees). The company was started in 2009 by corporate recruiters with the goal of developing hiring software that improves recruiting processes by offering powerful products that are easy-to-use, easy-to-purchase and easy-to-activate. Today, Newton is used by nearly 1000 employers that enjoy great customer service, free support, an intuitive product and constant innovation.