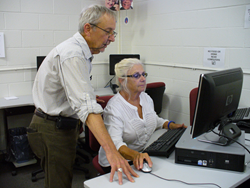 "It's estimated that by 2020, workers 55 and older will make up 25% of the workforce..." - the United States Department of Labor
AKRON, OH (PRWEB) September 20, 2014
Mature Services' Employment & Training Solutions is proud to celebrate "Hire an Older Worker Week," September 21-27. This week was founded by the United States Department of Labor, and recognizes the fact that older Americans play a vital part in the makeup of the American workforce.
There is an increase in the number of older Americans and a growing number of this population are actively seeking employment in the workforce. "Every day older workers come to us for assistance in finding a job," said Paul Magnus, Vice President of Workplace Development for Mature Services. "Many of them lost their jobs as a result of the economic downturn, and some find they are forced out of retirement due to the same issue. But there are other who just want to work, who feel the need to continue to contribute. We work to proactively address this issue and help older adults prepare, through training and hands-on experience, to re-enter the workforce."
According to the United States Department of Labor, "the average and median age of the US population continues to rise, it's estimated that by 2020, workers 55 and older will make up 25% of the workforce, up from 12% in 2000," according to the United States Department of Labor. Furthermore, "the number of workers over the traditional retirement age of 65 is seeing a marked increase, and it is projected that they will make up more than 7% of the American labor force by 2020," states the United States Department of Labor.
"Our task is to ensure that older workers have the skills and opportunities to continue to participate in the economy and maintain their independence," said Caroline Barborak, Project director at the Akron office. "We offer paid training opportunities through a federally funded program known as SCSEP (Senior Community Service Employment Program). SCSEP participants gain work experience through training and working at various community, government and non-profit agencies." These places includes schools, hospitals and day care centers, libraries, senior centers and parks. "Individuals who meet the eligibility requirements for the SCSEP program are evaluated for their needs and placed accordingly so they will acquire new skills and add work experience to their resumes," explained Barborak.
Since its inception in 1965, SCSEP has helped one million adults age 55 and older enter the workforce. SSCEP is the largest program dedicated to creating jobs for employment-seeking, low-income, older adults.
The Akron office serves Lake, Geauga and Summit counties and interested individuals can contact them at phone number: 330-762-8666, toll free: 800-554-5335. Mature Services is a non-profit organization that has been serving the needs of the older adult since 1975, and the Employment & Training division has 40 offices throughout Ohio.
###