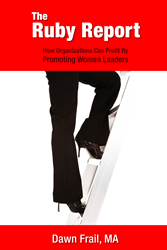 Key drivers are essential to getting promoted.
Mississauga, Ontario (PRWEB) September 22, 2014
The Ruby Report was launched by the publisher on August 1st, 2014 at the PWN International Conference in Louisville, Kentucky. This release followed the May 6, 2014 Canadian release that was celebrated with a reception attended by 60 people from the local area. During this reception Dawn shared insights she had gained while conducting her research, what drove her to study the organizational side of the glass ceiling issue, and what she believes companies can do to be successful in the future. Video highlight reel of Dawn speaking at the May 6th event can be found at http://www.therubyreport.com.
Women represent a talent pool that remains largely untapped for senior leadership roles despite the equal numbers that enter the leadership pipeline compared to men. Focusing her research in this area, Dawn connected with Financial Post Top 100 companies that have demonstrated leadership opportunities for women and have recorded ongoing success.
The result identified key drivers consistently reported by women as being essential to getting promoted. They must have support mechanisms such as strong mentors, developmental opportunities and effective feedback in order to be successful. In addition, the work environment needs to facilitate the opportunity for success and the women themselves need to be exceptional performers who take ownership of their career.
"The Ruby Report is a well-researched assessment of what is underlying in many companies when it comes to leadership opportunities for women. As an executive, I recognize that the gender intelligence conversation needs to continue and I think Dawn has highlighted where the discussion can lead," said Suzanne Gagliese, VP Sales at Fujitsu Canada. "I look forward to personally discussing this with her."
The Ruby Report is available on Amazon and is open for previews and reviews. Visit Dawn's Amazon Author Page. Take advantage of the Kindle Promotion and download your free copy of The Ruby Report until September 25th, 2014.
About the Author: Dawn Frail is the President of Eagle Vision Leadership Development Group who inspires leaders to build trust and loyalty so their teams will increase productivity and deliver higher bottom-line profits. As a leadership development specialist, she focuses on helping women become skilled leaders. As an award-winning speaker, trainer and author, Dawn has inspired audiences across Canada and the US to discover their leadership potential. To learn more visit her website at http://www.dawnfrail.com