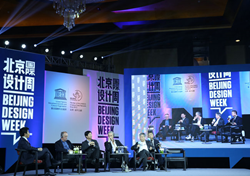 We are very pleased with the results of the China Design Challenge; there is a tremendous interest and enthusiasm from young designers for well designed products
Beijing, China (PRWEB) September 28, 2014
China Red Star Design and Beijing Design Week announce today the Kikkerland China Design Challenge winners and runners up. The event takes place at CMoDA, China Millennium Monument Museum of Digital Arts.
The 2014 Kikkerland China Design Challenge was created and funded to encourage a global market for Chinese design through international judging, guidance, global promotion, and production. The goal of the challenge is to create a quality product with value from start to finish.
The theme titled "A Passage Into Design," invited young Chinese designers to present their original ideas derived from their heritage to fit the Kikkerland Design philosophy of form, fun, and function.
Out of the 1000 submissions, 30 finalists were selected to participate in a 3-day workshop. An online voting website http://www.chinadesignchallenge.com invited people to help choose 10 finalists and 2 winners. The website brought 250,000 visitors and receiving more than 18,000 votes.
"We are very pleased with the results of the China Design Challenge; there is a tremendous interest and enthusiasm from young designers for well designed products" - Jan van der Lande, president of Kikkerland Design Inc.
The top design prize goes to Zhou Yi for the Hutong Eraser. The eraser represents the disappearing traditional architectural style that was once prominent in Beijing.
In second place, Wang Lei's Jiang-shang tea set tells the story of fishing with a barbless hook on the theory that the fish would come to him of their own volition when they were ready.
The Finalists:
Pine Cone Pencil Sharpener by Bai Renfei
China Salt & Pepper Shaker by Lin Ziwei
Cloud Paper Clip by Yan Yan
Great Wall Ruler by Yuan Xiaohan, Zhang Weiru, Zang Fengqi, & Li Jing
Mu-jian Note by Du Chaoyue
Clip Frame by Lin Sian
Chinese Calendar by Zhou Yi
Ning Shui Insense Holder by Zheng Ruiyi, Chen yiteng, & Chen Lei
The 10 winning design prototypes will be on display at the Millennium Monument in Beijing during Beijing Design Week 2014. All 10 designs will be produced by Kikkerland Design Inc. and promoted world wide. ###