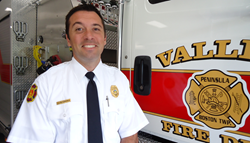 ORANGE BEACH, ALA. (PRWEB) September 22, 2014
Columbia Southern University (CSU) proudly awarded veteran fire officer and student Nikola Zamiska of Richfield, Ohio, a CSU Learning Partner Scholarship recently.
The Learning Partner Scholarship features an essay contest in which employees/members of companies or organizations that partner with CSU can enter. The scholarship covers tuition for up to 24 months for one specific online degree program. Zamiska, who plans to use award to continue his degree pursuit with CSU, is a member of the Cuyahoga County (Ohio) Fire Chiefs Association which is a learning partner with CSU.
In 2013, Zamiska enrolled in CSU to seek a master's degree in public administration with a concentration in emergency services management. "My goal of earning a master's degree in public administration from CSU would provide me the additional skills needed to succeed in my ultimate career goal of becoming a fire chief."
"As a young and eager firefighter, I was mentored from the beginning by several commanding officers that inspired me to earn my associate degree in emergency services," said the 31-year-old. He later attained his bachelor's degree in emergency management.
He was told he would be left behind without a formal education, as firefighting would focus more on the broad scope of emergency management. "It was at that time that I knew I had to seek an advanced degree," he explained.
Zamiska, a fourth-generation firefighter, works for Valley Fire District, serves as the regional hazardous materials team director for 19 communities in Northeastern Ohio and teaches for Bryant & Stratton University in Akron, Ohio as a fire academy instructor.
To learn more about the Learning Partner Scholarship, contact 888-785-3006 or scholarships(at)columbiasouthern(dot)edu.
CSU offers online associate, bachelor's and master's degree programs in various fields including criminal justice, fire administration, occupational safety and health, and business administration. To learn more about CSU, please visit http://www.ColumbiaSouthern.edu.