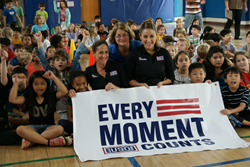 We are so honored to work alongside the USO and DoDEA, helping to build the resiliency of our nation's Champs, through our Little C.H.A.M.P.S. tours...- Debbie and Jennifer Fink
Arlington, Va. (PRWEB) September 19, 2014
America's "C.H.A.M.P.S." – Child Heroes Attached to Military Personnel – face a multitude of challenges unique to military families. Included among those challenges are frequent relocations. Military children move an average of six to nine times between kindergarten and 12th grade, three times more frequently than their civilian peers. The USO "Little C.H.A.M.P.S." tour helps military kids recognize and honor the sacrifices their families make to support a loved one in the military. As part of a two week USO tour experience, authors and 'edu-tainers' Debbie and Jennifer Fink will deliver 13 presentations at 5 U.S. military schools, reaching more than 2,400 military kids. Additionally, a very special message of support and gratitude from First Lady Michelle Obama will be played at each of the tour events. The First Lady recorded the video as part of the Joining Forces initiative, which she and Dr. Biden launched to support veterans and military families. Military kids in South Korea will be the first to view the message of thanks.
The USO tour is based on the principles of the "Little C.H.A.M.P.S." book which follows the children of five service members, each representing a branch of the military, as they cope with deployments, saying goodbye, and when a parent returns home wounded. Through storytelling and interaction, young audiences learn about feeling, identifying, and dealing with emotions. Each 45-minute show is being led by Debbie and Jennifer Fink and an emphasis is being placed on helping Champs to realize the value of their sacrifice and providing military families with coping tools to build resiliency.
"We are so honored to work alongside the USO and DoDEA, helping to build the resiliency of our nation's Champs, through our Little C.H.A.M.P.S. tours, while expressing heartfelt support, comfort and gratitude for their selfless sacrifice," said the Fink duo. "Call us dreamers, but we aim to build the bridge of understanding between our military and civilian worlds, such that each and every Champ can walk through his/her school doors each and every day feeling understood, validated, and appreciated. They have sacrificed much more, and hence deserve no less, from our nation."
USO Warrior and Family Care maintains more than 50 programs and services and partners with more than 30 best-in-class organizations. The USO is uniquely positioned to be the only organization to support America's military throughout their service. From the moment troops join, through their deployments and as they transition back to their communities, the USO is there for them with career building workshops, family strengthening programs and caregiver support. For more information about the USO and to find out how you can show your support, visit us online at http://www.uso.org. A complete list of 2014 USO Warrior and Family Care Programs and Services can be found online at http://www.uso.org/warriorandfamilycare/. For more information about Debbie and Jennifer Fink and the Little CHAMPS movement visit http://www.operationchamps.org.
# # #
About the USO
The USO lifts the spirits of America's troops and their families millions of times each year at hundreds of places worldwide. We provide a touch of home through centers at airports and military bases in the U.S. and abroad, top quality entertainment and innovative programs and services. We also provide critical support to those who need us most, including forward-deployed troops, military families, wounded warriors, troops in transition and families of the fallen. The USO is a private, non-profit organization, not a government agency. Our programs and services are made possible by the American people, support of our corporate partners and the dedication of our volunteers and staff.
In addition to individual donors and corporate sponsors, the USO is supported by President's Circle Partners: American Airlines, AT&T, BNSF Railway, Clark Construction Group, LLC, The Coca-Cola Company, Grand Canyon University, JCPenney, Jeep, Johnson & Johnson, Kroger, Northrop Grumman Corporation and TriWest Healthcare Alliance and Worldwide Strategic Partners: BAE Systems, BIC, The Boeing Company, ConAgra Foods, FedEx, Lockheed Martin, Microsoft Corporation, Procter & Gamble, TKS Telepost Kabel-Service Kaiserslautern GmbH & Co. KG and Wawa Inc. We are also supported through the United Way and Combined Federal Campaign (CFC-11381). To join us in this important mission, and to learn more about the USO, please visit uso.org.
About Operation CHAMPS – Child Heroes Attached to Military Personnel
Since its inception in 2012, Operation CHAMPS, a 501(c)3 nonprofit, has been a 100% volunteer-run organization, providing necessary support, comfort, and gratitude to our Nation's Champs and their families, while promoting education and cultural competence among civilians. Operation CHAMPS' two key programs include The Little CHAMPS Public Health and Education Initiative and the Champsitting Program (free babysitting); as well as community events for military and veteran families, and military cultural competence training for civilian volunteers. Hundreds of volunteers make it possible for Operation CHAMPS to provide much needed programs locally, nationally, and globally. Through these programs, Operation CHAMPS aims to express gratitude, reduce risk, and reinforce resiliency among our Nation's CHAMPS and their families.