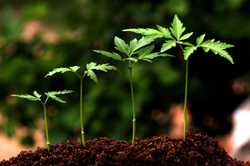 Neem - a tree for solving global problems
London (PRWEB UK) 21 September 2014
With applications in healthcare, medical, pharmaceutical and agricultural industries, Neem has established itself as a lucrative global resource. Liquid Investments have developed a dedicated website for green investment opportunities in Neem, a product presented by the United Nations as a "tree for solving global problems."
Global demand for neem is steadily increasing, and interest from the healthcare industry has driven the price of neem oil up 220% in the 18 months to March 2014. Following on the success of its coconut investments, Liquid Investments is developing well managed, highly mechanized and commercial scale neem plantations. Facilitating the ownership of neem for local and foreign investors, Liquid's aim is to provide comprehensive crop care and implement modern management methods to produce yields way above international industry standards.
Liquid's Neem Investments website traces the history of neem, offering an overview of the agricultural and health benefits attributed to the plant while providing an invaluable insight into the commercial potential of the crop.
For news and updates regarding the development of Liquid's neem plantation, the construction of the company's second dam, the state of the art machinery and irrigation systems installed and the process of land preparation for the plantation, look now at the Liquid Investments Plantation Gallery.
Video footage available for view include presentations delivered by Liquid Investments Founder & CEO Anthony J. Archer, informative segments on the current state of the market, testimonials from current investors and updates on Liquid's other key investment project on coconuts.
The reasons to invest in Neem? 'Why Invest' offers an introductory overview of the industry, the catalysts for growth and the strategy adopted by Liquid Investments.
For further information on the investment opportunity in Neem, please see the Liquid Investments complimentary Neem Investment Guide.
Note to Editors:
Liquid Investments is a provider of global investment solutions allowing institutional and private investors the opportunity to accumulate wealth through safe and secure alternative investments in emerging markets.
Liquid's investment process is driven by 'Liquid Investment Theory' (LIT). LIT focuses on investing in tangible alternative assets that provide a greater degree of security, with products that deliver a consistently higher level of returns to a wide variety of end-user markets.
Founded in 2006, the organisation is headquartered in Knightsbridge, London, and with an office in Fortaleza, Brazil.
For further information: Jayshree Badhan, Chief Marketing Officer – Jayshree.Badhan(at)liquid- investments(dot)com.