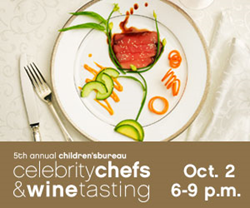 It's truly one of the most exciting charity food and wine events in Los Angeles, bringing together delicious food, great wine and the opportunity to give back.
Los Angeles, CA (PRWEB) September 19, 2014
Tickets are now on sale for Children's Bureau's 5th Annual Celebrity Chefs & Wine Tasting to be held on Thursday, October 2 from 6:00 to 9:00 p.m. at the historic Casa Vertigo in Downtown Los Angeles. The evening will include exceptional cuisine from America's top chefs, 90-point wines from around the world, a limited number of seats for a personal tasting experience with Master Sommelier Fred Dame along with live and silent auctions that include an Australian Country Wine Tour and tickets to the 2015 Masters Tournament. All proceeds from this world-class evening will benefit Children's Bureau's work to prevent child abuse, giving at-risk children and their families the opportunity to thrive and succeed.
Celebrity Chefs include Kajsa Alger (Mud Hen Tavern), Gino Angelini (Angelini Osteria), Ryan Bergunio (Bistro 45), Melina Davies (Olive & Thyme), Leslie Durso (Vegan Chef), Susan Feniger (Border Grill, Mud Hen Tavern), Sharlena Fong (Semi Sweet Bakery), Karen Hatfield (Hatfield's, The Sycamore Kitchen), Loretta Keller (Seaglass), John Lechleidner (WP24), Hiroyuke Naruke (Q Sushi) and Joachim Splichal (Patina Restaurant Group).
"I am overjoyed to be able to support such an important cause by participating in the Celebrity Chefs and Wine Tasting," said Chef Susan Feniger, Co-Owner of Border Grill and Owner of Mud Hen Tavern. "It's truly one of the most exciting charity food and wine events in the city, bringing together delicious food, great wine and the opportunity to give back."
Wineries include Bodega Catena Zapata, Bodega Norton, Cambria Estate Winery, Chappellet, Charles and Charles, Château Miraval, Cherry Pie, Concannon Conservancy, Dreaming Tree Wines, Gloria Ferrer, Greg Norman Estates, J.Lohr Vineyards & Wines, Jackson Family Wines, Jacob's Creek, MacMurray Estate Vineyards, Michelle Redde, Pacific Rim, Riboli Family Wine Estates, Rodney Strong Vineyards, Ruffino Ducale Oro, Tormaresca, Trapiche Winery, Trinchero Family Estates and Yalumba.
The Event Chair is Julia Stewart (Chairman & CEO, DineEquity, Inc.). The Presenting Sponsor is Bon Appétit Management Co. with additional sponsors including AECOM, Bank of America Merrill Lynch, BreitBurn Energy Partners, Liza-Mae and Mark Carlin, CBRE, City National Bank, Marina and John Durrant, Ernst & Young LLP, Grandpoint Bank, Guggenheim Partners, Kerry Foods, Korn Ferry International, KOST 103.5 FM, Latham & Watkins, LLP, Lockton Insurance Brokers, Inc., Muller Foundation, NFP National Account Services, Paul Hastings, LLP, PricewaterhouseCooper LLP, RT Specialty, Shelli Herman and Associates, Inc., Southern Wine & Spirits of America, Julia Stewart and Tim Ortman, Target Corporation, The Sound 100.3 FM, Uber, Wells Fargo.
The event is expected to raise $300,000 net for Children's Bureau's child abuse prevention programs. Tickets and information about the chefs, wineries and auction items are available online at http://www.all4kids.org/celebritychefs. Tickets are limited for the Fred Dame Wine Experience. Details about the evening and ticket contests are also being posted on Children's Bureau's Facebook and Twitter pages and via The Sound 100.3 FM and KOST 103.5 FM.
Since 1904, Children's Bureau has been a nonprofit leader in the prevention and treatment of child abuse and neglect. More than 28,000 children and families are helped each year throughout Southern California with services that include school readiness, parenting classes, family resource centers, support groups, mental health counseling, foster care and adoption. Children's Bureau is one of the largest investors in child abuse prevention in the country and is developing a national model to transform an entire at-risk community through its Magnolia Community Initiative.