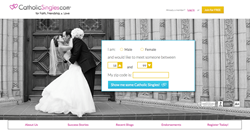 The first Catholic Singles dating site founded in 1997.
(PRWEB) September 19, 2014
CatholicSingles.com, the original on-line dating site for single Catholics, just celebrated 17 years and will be launching an entire new look to their site to coincide with National Singles Week.
Launched in 1997, CatholicSingles.com is not just a dating site, it's a community. Still owned and operated by its original owner and founder, David Nevarez, the site is a testament to the New Evangelization efforts as well as its on-going commitment to providing a host of Catholic resources to its members.
David is not only the owner; he is a former member himself. He met his wife Tricia on the site back in 2010. They just celebrated their three year wedding Anniversary this past July.
The new responsive web design and site provides many Catholic resources for the community through exclusive weekly blogs, event listings, mass times, prayer intentions, book and movie reviews. In addition, CatholicSingles.com will now offer monthly webinars and weekly Guest Chats with notable Catholic speakers. The update will go live on or about September 23, 2014.
Our monthly blog contributors include such notables as Michele Fleming, counselor, national speaker and radio host who is currently working on her PhD with an emphasis on Catholic/Christian relationships; John Antonio, graduate of Regina Apostolorum University, life coach, spiritual director and teacher at Purdue University; Jacqueline Von Zwehl, relationship expert, life coach and award winning author of the book "The Prayer, A Love Story" and Carl Kozlowski, Catholic comedian, film reviewer, and journalist who reviews movies for the Catholic News Agency as well as the Christian site Movieguide.org, Pasadena Weekly, Chicago Tribune and Esquire.
CatholicSingles.com's sister site CatolicosSolteros.com will debut a new look and design later this year as well.
SOURCE CatholicSingles.com®
RELATED LINKS http://www.CatholicSingles.com