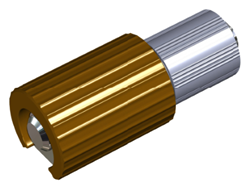 The introduction of One-way solutions allows Reell to provide perfect fit positioning solutions across a wider range of customer applications
Saint Paul, MN (PRWEB) September 30, 2014
Reell Precision Manufacturing, a world leader in small package position control, has expanded its offering of One-way torque positioning products.
The recently introduced PH-35 hinge, TI-340 Torque Insert, and TI-360 Torque Insert join the vTilt VESA Mount to provide a wide range of torque and mounting options.
Reell One-way torque technology features an asymmetrical torque, which greatly reduces the force needed to move in one direction while maintaining full holding force in the other. When used in vertical mounting applications like access panel covers, enclosure lids and wall-mounted monitor arms, One-way torque allows easy upward adjustment without compromising holding force in the downward direction. In many applications Reell One-way hinges can replace more costly and cumbersome solutions like gas strut or prop-rods.
All One-way torque products feature ReellTorq®, the worlds best torque technology. ReellTorq's® patented clip mechanism provides consistent, long-life torque without adjustments during assembly or in the field.
Global product line manager John Schannach is excited by the new offerings: "The ability to offer a One-way solution across a wide range of packages and torques allows Reell to provide perfect fit positioning solutions in more customer applications. With several additional One-way torque product launches planned in the coming months, Reell has made a strong commitment to making One-way torque available for any application."
Reell Precision Manufacturing provides high-quality innovative solutions to transmit torque, control angular position and protect delicate components from excessive force. Combining the world's most precisely controlled torque technology with the industry's most experienced engineering team provides a perfect product fit in customer applications. Reell's patented technology is widely used in the consumer electronics, automotive, aircraft interiors, medical technology, workstation furniture, kiosk/data terminal, and architectural lighting industries.
For more information about any of Reell's products and services, please contact Reell or visit http://www.reell.com.
Follow Reell on twitter: @reell