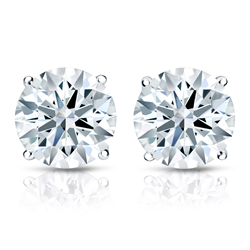 Los Angeles, California (PRWEB) September 20, 2014
DiamondStuds.com is pleased to announce the launch of their newly designed e-commerce website, http://www.diamondstuds.com. The launch signifies the company's commitment to becoming the leading source for diamond jewelry online.
"Our newly enhanced site with the responsive design is the perfect depiction of our progressive business approach," states Henry the director of marketing. "The new responsive website was specifically designed to be easy-to-navigate and enhance the user experience by delivering user friendly functions on mobile, tablets, and computers." The new website utilizes responsive technology to accommodate the rapidly increasing number of transactions being completed on mobile devices. Regardless of what device a client is using, the experience on DiamondStuds.com is now 100% designed for the end user in mind.
Once on the site, visitors have access to DiamondStuds.com's versatile product lines such as diamond earrings, including diamond studs and fashion diamond earrings and now the addition of diamond rings and diamond pendants. Customers can now create their perfect pair of diamond stud earrings on any device with three simple steps. They can select the diamond shape, setting and diamond quality. Customers also have the option to choose from a large collection of GIA and EGL USA certified diamonds. DiamondStuds.com is dedicated in providing a unique shopping experience for its customers through its prompt shipping and easy return policy. With the new addition of Hot Deals customers can now find special priced diamond jewelry promotions at http://www.diamondstuds.com/hot-deals.html for a limited time only.
For the last year DiamondStuds.com has been recognized as the online leader for diamond earrings with sales world wide.
About DiamondStuds.com: Armed with a mission of lasting excellence and superior knowledge about diamonds, DiamondStuds.com focuses solely on diamond stud earrings. This attention to exacting details allows the company to offer its consumer base the largest selection of fine diamond earrings online. DiamondStuds.com also provides a huge array of customization options, enabling each individual to create an exquisite pair of studs, halo earrings, gemstone earrings or fashion earrings unique to his or her personal preferences. To learn more about DiamondStuds.com, please browse the new website at http://www.diamondstuds.com. Customers can call DiamondStuds.com at 213-955-0033 to speak live with a customer service specialist or visit the company's Facebook page (https://www.facebook.com/diamondstudscom), and Pinterest (http://pinterest.com/diamondstudscom/).