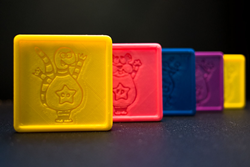 "We hope [the children] pique an exploratory interest in the design process when they are printing their very own learning tools."
Brooklyn, NY (PRWEB) September 19, 2014
Solidoodle is excited to announce its partnerships with KiKi Han, author of Cutie's Alphabellies. Featuring bright and colorful illustrations, Cutie's Alphabellies is a fun and educational book for children learning the alphabet. Starting today, the book will be brought to life through a series of 3D models featuring the main character, Cutie, and educational tiles featuring the Alphabellies.
"Solidoodle's printers and downloadable characters provide children and their parents the opportunity to build from the ground up, educational alphabet themed learning toys based off the Alphabelly Animals," says author KiKi Han. "We hope they pique an exploratory interest in the design process when they are printing their very own learning tools."
Sam Cervantes, CEO of Solidodole, added "This generation is going to do things that we never would have believed to be possible, so we are excited to be able to start that journey by bringing one of their favorite books to life in a way that is both fun and educational."
All models are available for free on Solidoodles, a design community dedicated to making awesome 3D content available to users.
Go to Solidoodle.com/Alphabellies to learn more and download the characters.
About Solidoodle
Solidoodle, founded in 2011 by aerospace engineer and 3D printing industry-veteran Sam Cervantes, builds accessible desktop 3D printers for the consumer market. Based in Brooklyn, New York, Solidoodle has shipped over 10,000 3D printers to customers around the world. For more information about Solidoodle, please visit Solidoodle.com.
About the author:
KiKi Han (a.k.a. GeekyKiKi) loves to develop cute and colorful characters that promote learning in kids. Her likes include stargazing at playgrounds, dreaming about flying and tweeting fun science facts. Learn more about the author at geekykiki.com. Cuties Alphabellies is her first children's picture book.