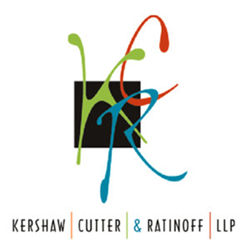 Sacramento, CA (PRWEB) September 19, 2014
C. Brooks Cutter of Kershaw, Cutter & Ratinoff LLP announced today that Medtronic Inc., the nation's largest medical device manufacturer, has reached an agreement with 46 states and the District of Columbia to settle a whistleblower's False Claims Act claims alleging that the company offered illegal kickbacks to physicians to implant its pacemakers and defibrillators. This deal follows a $9.8 million federal settlement that was achieved through the coordinated efforts of Brooks Cutter, Assistant United States Attorney Catherine Swann, and co-counsel Mychal Wilson back in May 2014. Both of these settlements arose from the False Claims Act case brought by whistleblower Adolfo Schroeder in the United States District Court for the Eastern District of California on behalf of both the United States and the settling 46 states (Case No. 2:09-CV-0279).
The agreement requires Medtronic to pay the settling states $362,362. That money will go to the states' Medicaid programs.
Medtronic's Cardiac Rhythm Disease Management (CRDM) business produces and markets pacemakers to treat patients with bradycardia (too-slow heartbeat), implantable defibrillators to help patients with tachyarrhythmia (too-fast heartbeat), and diagnostic and monitoring devices that diagnose heart-related syncope (unexplained fainting), among other products. Medtronic also makes leads that connect these devices to the heart.
The lawsuit alleged that Medtronic illegally provided monetary and other incentives for doctors willing to implant their devices, as an effort to increase sales of their CRDM products. Mr. Schroeder contended on behalf of the United States and the States that Medtronic instructed and trained their sales representatives, business and marketing managers, and other Medtronic employees to provide physicians with cash payments, consulting jobs for family members, automobiles, expensive trips and meals, entertainment, and tickets to sporting events in exchange for the physicians' agreement to implant their devices.
Kershaw, Cutter & Ratinoff LLP is a Sacramento-based civil justice law firm that has successfully represented individuals nationwide in multiple lawsuits involving False Claims Act. The firm is also recognized for their successful track record representing clients in defective medical devices, dangerous drugs, product liability, class action matters.
We offer free and confidential case reviews. For more information, please visit our website http://www.kcrlegal.com or http://www.cutterlaw.com. You can also give us a call Toll Free (855) 767-7699.