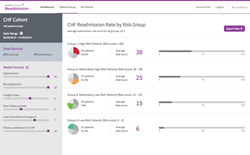 As the healthcare industry continues to shift towards value-based care models and as providers increasingly take on risk, it's become critical for healthcare enterprises to move beyond simply collecting patient data.
SANTA CLARA, Calif.–
Health 2.0 8th Annual Fall Conference (PRWEB) September 22, 2014 -- Healthline, a leading provider of intelligent health information and technology solutions, today launched its HealthData Engine to harness the power of structured and unstructured data to improve outcomes and reduce costs. The new big data analytics platform leverages the company's market-leading HealthTaxonomy, advanced clinical natural language processing (NLP) technologies and semantic analysis to turn patient data into actionable insights.
According to IDC Health Insights, more than 80 percent of today's health data remains in unstructured formats, such as free-text physician notes, patient histories and hospital admission notes. The HealthData Engine aggregates and normalizes valuable unstructured information from disparate sources and combines it with structured data, such as problem lists and medications, for a more comprehensive view of the patient's health. Using predictive factors from peer-reviewed studies, it leverages predictive modeling to risk-score and group patients into cohorts for targeted interventions. By combing through and making sense of unstructured parts of the patient record to identify patients with un-coded predictive clinical factors, including many psycho-social, socioeconomic and environmental factors, the engine enables clinicians to make better, more informed decisions and improve patient outcomes.
Healthline's HealthData Engine will be available to select healthcare enterprises during an Early Adopter Program and to the general public in early 2015. Key features include:

HealthTaxonomy – Healthline's rich health taxonomy intelligently maps medical concepts, such as conditions, symptoms, diagnoses and treatments, to clinical terminology in coding systems, including ICD-10, SNOMED, CPT, RxNORM and LOINC, to deliver an accurate classification of health data relationships. Each medical concept contains a rich set of attributes as well as relationships to other medical concepts.
Advanced Clinical NLP – The HealthData Engine's unique NLP technology enables providers to effectively capture the high volume of valuable patient information that is found in unstructured data from clinical systems and access a more comprehensive view of the patient's health.
Data Aggregation from Disparate Sources – Provider organizations often utilize numerous systems across multiple facilities, including EHRs, administrative systems and claims processing systems. The HealthData Engine aggregates both structured and unstructured patient data from these disparate sources into a single, centralized location.
Risk Stratification – The HealthData Engine leverages predictive models and an advanced rules engine to assign patients risk scores based on relevant patient data, helping providers to more effectively identify gaps in care and high-risk patients who need intervention. Risk factors are configurable based on specific provider needs.
Dashboard View – With HealthData Engine's visual dashboard, clinicians are able to get an accurate, comprehensive view of their entire patient population, stratified by risk level or risk cohorts. This allows them to target scarce resources to deliver the right interventions to the right patients at the right time.
"As the healthcare industry continues to shift towards value-based care models and as providers increasingly take on risk, it's become critical for healthcare enterprises to move beyond simply collecting patient data. They must really understand that data and use it to better predict patient outcomes and more effectively target interventions," said Dean Stephens, chief executive officer of Healthline. "Healthline's new HealthData Engine helps providers do that by uniquely harnessing our comprehensive taxonomy and NLP technologies, along with predictive analysis and risk stratification, to move the needle on patient care and outcomes."
Readmissions Risk InSight for Congestive Heart Failure (CHF) will be Healthline's first application in a suite of clinical applications built on the HealthData Engine. The application leverages predictive clinical factors, combined with non-clinical predictive indicators such as socioeconomic and environmental factors, to score patients for risk for 30-day hospital readmissions due to CHF and help providers direct appropriate care to the patients who need it most. CHF is one of the seven conditions that account for 30 percent of potentially preventable readmissions and is classified as a "high avoidable readmission" that is currently penalized by the Centers for Medicare and Medicaid Services (CMS). The Readmissions Risk InSight application for CHF will be followed by additional applications for other conditions typically experiencing high avoidable readmissions rates and costs, including acute myocardial infarction (AMI), pneumonia (PN) and chronic obstructive pulmonary disease (COPD).
"Our success in population management has been directly related to the degree that we improve outcomes for patients living with chronic illness," said Dr. Clive Fields, co-founder of VillageMD and president of Village Family Practice in Houston. "Healthline has a unique approach to identifying care gaps and high-risk patients – from unlocking the value of unstructured data to delivering a complete risk-stratified view of the patient population – which is why we are thrilled to see our partnership with Healthline extend to the Early Adopter Program for the HealthData Engine and its clinical applications."
Healthline is showcasing its HealthData Engine and Readmissions Risk InSight application in Booth #407 at the Health 2.0 Annual Fall Conference in Santa Clara, Calif., September 21-24, 2014. Additionally, Healthline's chief strategy officer, Murray Brozinsky, will demo the new product as part of the conference's "Big Data Analytics for Population Health" panel session on Tuesday, September 23 at 11:00 a.m. PDT in Ballroom C.
To see a video about the HealthData Engine, visit https://www.youtube.com/watch?v=UlGTQjqTVu4. For inquiries about joining the Early Adopter Program, please contact Healthline at corp.healthline.com/early-adopter-program.
About Healthline
Healthline provides intelligent health information and technology solutions that help healthcare organizations and everyday people make more informed healthcare decisions, improve outcomes and reduce costs. Powered by the world's largest medical taxonomy platform, Healthline's Data Solutions, Engagement Solutions, and Marketing Solutions leverage advanced concept-mapping technology to deliver accurate, actionable insights. Additionally, the company's consumer website, Healthline.com, delivers relevant, timely health information, news and resources to help consumers manage their health. Healthline is currently used by more than 25 million consumers per month and some of healthcare's largest brands, including Microsoft, IBM, GE, AARP, Aetna, UnitedHealth Group, and Elsevier. For more information, please visit corp.healthline.com and http://www.healthline.com.