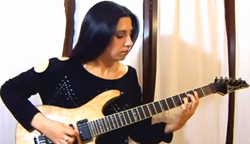 (PRWEB) September 20, 2014
In this lead guitar lesson, now available on YouTube.com, Alejandra Mesliuk teaches how to play the guitar solo from shredder guitarist John Norum's band Europe, "The Final Countdown". This melodic guitar solo starts off three string arpeggios, played on the first three strings of the guitar, that follow the chord progression of the song and performed using the sweep picking technique and transitions into a the natural minor scale from there before moving into a bluesy pentatonic minor lick that incorporates hammer-on and pull-offs, slides, bending and some whammy bar tricks before moving back into the sweeping lick that it started out with. Alejandra demonstrates the solo over a backing track off the song at tempo so you can hear how it should sound up to speed and then she breaks it down slowly so you don't miss a lick. Guitar TAB's are available for this lead guitar lesson at GuitarControl.com.
Europe was formed in 1979 in Stockholm Sweden by vocalist Joey Tempest. They gained international popularity in the 1980's with there hit The Final Countdown and have released nine studio albums and three live albums that have sold over 20 million albums world wide. The band has had numerous lineup changes among which was notable guitarist Kee Marcello.
Alejandra Mesliuk
Alejandra Mesliuk is from Buenos Aires Argentina. She studied jazz guitar harmony and under the method in Temperley Berklee School of Music by Ariel Ferreyrola. She has been an area teacher and clinician for the last 10 years in electric guitar, classical, and musical language. She is currently working on a solo album.
About GuitarControl.com
GuitarControl.com is the leader in modern guitar instruction. It's packed with recourses including articles, video lessons, and the best videos in the business for the beginner to the advanced guitar student taught by the best instructors out there. Weather you are into the blues, rock, jazz, metal, folk, or anything in between, they have you covered.