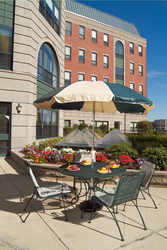 Allerton House Assisted Living Communities in Duxbury, Hingham, Marshfield, Quincy and Weymouth provide supportive services to maximize an individual's independence and sense of well-being.
Quincy MA (PRWEB) September 22, 2014
It's estimated this year that 5.7 million Americans will be 85-years old or older. As an older adult, the question of where to live depends in large measure on a person's physical, emotional and mental health. For adult children, the question becomes not only where mom or dad should live but how best to ensure health and happiness. For example, what happens when the isolation that comes from living alone begins to threaten an older adult's well-being? And how can adult children help when a loved one can no longer maintain a home or safely navigate a staircase or driveway?
Fortunately, for today's seniors there are many options for alternate housing and supportive services. In Massachusetts, the family-owned Welch Healthcare & Retirement Group has been a leading provider of senior housing for more than 65 years, offering a range of possibilities to best fit the ever-changing needs of older adults. Independent living, assisted living, memory care, rehabilitation and skilled nursing, home care and adult day programs are among the options. In the case of assisted living, seniors can live worry-free in a spacious rental apartment, enjoy three meals daily and choose from a range of creative, health-related, fitness and social programs and services.
Recently the company's five assisted living communities along the South Shore celebrated National Assisted Living Week, with events for residents, their families and friends that focused on the importance of music in our lives. The National Assisted Living Week theme, "The Magic of Music," fits well with the Allerton House Communities focus all year long on musical events and recognition of residents whose professional or personal interests involved their own musicianship or music appreciation.
Researchers from Emory University in Atlanta are studying whether musicians are able to temporarily stave off dementia in the same way that it would appear people who speak multiple languages may be able to slow down mental decline. Scientists theorize that the common chord for both, is keeping the brain engaged.
Assisted Living residents living in Welch Group communities in Duxbury, Hingham, Marshfield, Quincy and Weymouth can take part in a variety of stimulating and engaging activities each week. In addition to a sing-along or concert, these events may include book clubs, drawing and painting classes, ballroom dancing, TED Talks and much more.
Allerton House Assisted Living Communities also provide supportive services to maximize an individual's independence and sense of well-being. These include personalized care plans, 24-hour staffing, medication reminders, transportation to doctor's appointments, wellness checks, and if needed, priority access to an on-campus or nearby Welch Group rehabilitation and skilled nursing center.
Welch Healthcare & Retirement Group of Norwell, MA is led by third - and fourth-generation family members. The company is committed to the provision of unsurpassed senior care and is a leading provider of independent, assisted living, assisted living memory care communities as well as centers for short-term rehabilitation, long-term skilled nursing care, and home care services throughout southeastern, Massachusetts. Learn more about Welch Healthcare & Retirement Group online at: http://www.welchhrg.com