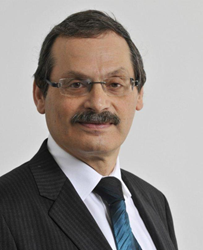 Denis Giorno's is an invaluable addition
SUNNYVALE, Calif. (PRWEB) September 23, 2014
EnerVault Corporation announced today that Denis Giorno has been appointed to the Company's Board of Directors.
"As one of the foremost experts on global energy, Denis is an invaluable addition to our board," said Jim Pape, EnerVault CEO. "His in-depth knowledge and experience in utilities, renewable energy, and international markets will help guide EnerVault as we continue to pursue utility scale energy storage."
The operation of EnerVault Turlock is the next step in EnerVault's pursuit of utility scale, long duration energy storage solutions capable of providing emissions-free, flexible generation needed for higher penetrations of renewable energy and greater grid resiliency. The U.S. DOE ARRA Energy Storage demonstration system was dedicated on May 22, 2014 and is the world's largest iron-chromium redox flow battery. In less than 5 years since the company was funded, EnerVault has developed its unique technology, advanced its low cost chemistry to practical use, established pilot manufacturing, and installed multiple systems of increasing scale at its headquarters.
Mr. Giorno currently serves as president & CEO of Total Gas & Power New Energies USA. Mr. Giorno has held numerous, international management positions in his distinguished career at Total S.A. since 1975.
About EnerVault:
EnerVault designs and manufactures long-duration, grid-scale energy storage systems based on iron-chromium redox flow battery technology pioneered by NASA. EnerVault's energy storage systems offer grid operators the flexibility to both absorb and deliver energy to cost effectively manage system efficiency, increase reliability and integrate renewable resources. Based in Silicon Valley, EnerVault is the first company to deploy megawatt-hour scale iron-chromium redox flow battery systems in field operations. For more information, visit http://www.EnerVault.com