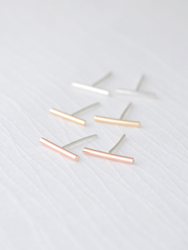 Our baby bar earrings are my personal favorite. They can work with multiple ear piercings and are great for everyday wear.
Charlotte NC (PRWEB) September 21, 2014
As an artisan company focusing on trendy handmade jewelry, Olive Yew is releasing its highly-anticipated line of fall earrings. The Charlotte-based jeweler is rolling out new earrings in gold, rose gold, and silver. The designs are in hoop, dangle and stud styles and can be seen on Olive Yew's website.
Olive Yew owner Angela Parker-Kennedy says she purposely maintained her trademark delicate style to let the beauty of her craftsmanship and materials shine through. "The concept was to keep our earrings simple, or simplify existing designs - like the tiny hoops," she says. At the same time, Olive Yew still offers its popular larger hoops – at 2 inches in diameter – in both open and oval styles.
Olive Yew's new line has a variety of styles for all tastes, although Parker-Kennedy has her preferences. "Our baby bar earrings are my personal favorite. They match anything, can work with multiple ear piercings and are great with everyday wear. Our stitch earrings are adorable too because they are a great illusion piece resembling a double piercing or stitch in the ear," she says.
For a limited time visitors to Olive Yew's website can take advantage of a 15% off coupon by entering the code OYFALL15 during checkout. The coupon expires October 15th. In addition, Olive Yew is also doing a "Mani Monday" promotion starting September 22. Each ring order will receive a free bottle of Essie nail polish. Each photo of a manicure tagged with #Oymanimonday on Tumblr, Vine, Instagram, Facebook or Twitter will be entered to win a ring by Olive Yew. Images that contain Olive Yew jewelry will receive triple entry.
Parker-Kennedy's creations were inspired by the stylish women from her childhood. Four years ago, she left her corporate life behind to pursue her passion for creating feminine and delicate jewelry for all women.
About Olive Yew: Olive Yew specializes in simple silver, gold, and rose gold jewelry. It offers petite and modern designs in earrings, bracelets, necklaces and rings. The company, which is based in North Carolina, focuses on quality materials and handmade attention to detail. To find out what Olive Yew can do for you, visit OliveYew.com.