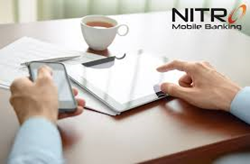 This partnership will help us deliver more value to our clients and distinguish Nitro as a mobile technology leader.-Pete Slade, CEO
Tampa, Fla. (PRWEB) September 23, 2014
Nitro Mobile Solutions, a leader in mobile applications and mobile banking development, announced today its strategic partnership with Security Compliance Associates, a leading information security provider for financial institutions. The purpose of this partnership is to deliver mobile solutions that have been assessed and certified for information security compliance. Security Compliance Associates will perform a thorough information security assessment of Nitro's information technology systems as well as NitroServer™, the patent-pending middleware platform on which Nitro's mobile applications are created. Nitro has also negotiated favorable post-deployment assessments to be available for their clients to help them meet regulatory requirements.
The partnership will help Nitro Mobile Solutions ensure the security of their network systems and mobile banking applications (pre-deployment), while providing due-diligence documentation to their financial clients attesting to security. Bank and credit union clients will further benefit by meeting all regulatory requirements ensuring the integrity and security of new technology service delivery channels.
"We are excited about our new partnership with Security Compliance Associates," says Pete Slade, CEO of Nitro Mobile Solutions. "The information security vulnerability and pen testing provided by SCA will allow Nitro to deliver mobile solutions that have been thoroughly tested for information security by an independent third party, helping Nitro deliver more value to our clients and distinguishing Nitro as a mobile technology leader."
About Nitro Mobile Solutions:
Nitro Mobile Solutions is a software development company providing financial institutions with full-service native mobile applications and platforms. NMS has the innovative technology and industry expertise to deliver an affordable, turnkey mobile banking solution to customers in less than 30-60 days. NMS uniquely delivers a complete mobile ecosystem. Its patent-pending middleware, NitroServer™, connects disparate data systems and hosts ME2, a dynamic, yet easy-to-use content management system. For more information on NMS, visit http://www.nitromobilesolutions.com.
About Security Compliance Associates:
SCA is one the of nation's preeminent providers of data security testing and certification for financial services, healthcare and real estate settlement industries. Based in Clearwater, Florida, SCA conducts business with clientele throughout the continental United States. For more information on SCA, visit http://www.scasecurity.com.