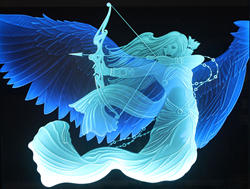 My favorite part of the project was etching the detail of the angel's wings.
Pompano Beach, Florida (PRWEB) September 21, 2014
A new LED art glass display has been completed by glass artist Peter Edward Jurgens of Krystal Glass Company. The illuminated glass angel is now on display at the Krystal Glass Company showroom at 2411 N.W. 16 Lane #6 in Pompano Beach, Florida 33064.
The LED illuminated art glass display is a stunning angel design that was created on two panels of low iron glass to achieve the effect. Low iron glass is nearly colorless and lets the true color of LED art glass show.
The design is hand carved and etched in glass. The LED art glass display is highlighted and illuminated with multicolored LED lights. Jurgens used his custom etched glass techniques to get the fine detail and shading in the feathers of the angel's wings.
The piece measures 52″ x 42″. All LED art glass displays at Krystal Glass Company are available for immediate shipping or local South Florida installation. Any size, shape and design can be commissioned.
Artwork by Michael Hayes reproduced with permission.