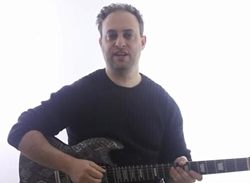 (PRWEB) September 21, 2014
In today's beginner guitar lesson Claude used the clip on style tuner, which he says "is the easiest for the beginner". Most clip on tuners are small circular or square shaped devices that clip onto the headstock of the instrument, the one that Johnson is using is actually decorated to look like a little green alien. Claude states that many of the clip on tuners available has different modes to accommodate different instruments and that the one he uses a G to indicate that it is in the mode for a guitar. When you pick a string the tuner recognizes the pitch and knows what string you are playing. Then it indicates with the meter on the face of the tuner as to which way you need to tune the string. Claude says that when he is performing live that he will just leave the tuner attached to the guitar so he can check his tuning on the fly. Right now Claude is offering a free tuner like the one he is using in the video for a limited time at GuitarControl.com/tuner.
Clip-on tuners are devices that can clip on to stringed instruments such as the guitar, ukulele, violin and banjo. Most clip-on tuners make use of an internal vibration sensor to measure the vibrations of the instrument instead of using an audio microphone, which helps to ignore background noise, allowing them to be used effectively in noisy environments. The clip-on tuner was invented in 1995 by Mark Wilson of Onboard Research Corporation.
Claude Johnson
Claude Johnson, a native of Philadelphia PA, began playing guitar in 1990 after being inspired by players like Jimi Hendrix, Eric Clapton, and Stevie Ray Vaughn. He is the creator of GuitarControl.com and has helped 1000's of people to learn to play the guitar with his critically acclaimed instructional DVD courses, all available at GuitarControl.com
About GuitarControl.com
GuitarControl.com is the leader in modern guitar instruction. It's packed with recourses including articles, video lesson s, and the best videos in the business for the beginner to the advanced guitar student taught by the best instructors out there. Weather you are into the blues, rock, jazz, metal, folk, or anything in between, they have you covered.