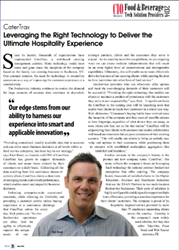 "Accepting this honor from CIO Review was an amazing way to wrap up our first decade in business." said Co-Founder and CEO Rich Rund
Rochester, NY (PRWEB) September 23, 2014
As CaterTrax, the catering management technology platform that powers thousands of catering kitchens, marked their 10th anniversary, they were also celebrating the honor of being chosen as one of CIO Review's Top 20 most promising food and beverage technology solutions for 2014. The Top 20 companies featured highlighted an in-depth expertise in delivering integrated and innovative technologies to streamline operations and be the critical cog in the evolving food and beverages ecosystem.
"It's been a challenging, yet fun road so far," said CaterTrax Co-founder and CEO Rich Rund. "Accepting this honor from CIO Review was an amazing way to wrap up our first decade in business."
Co-founder and CFO, Dan Welch said, "Our focus is making life better for our clients and the customers they serve; so I must admit we were pleasantly surprised when we were chosen by the magazine for this recognition."
With nearly 3,000 system deployments being leveraged by over 12,000 foodservice operators in North America, CaterTrax has become very noticeable in the world of managed hospitality. Their highly configurable offering is designed to drive engagement between caterers and their customers, while streamlining kitchen operations. But what truly sets CaterTrax apart are the enterprise tools that have been developed to provide center-led managed hospitality companies the control, consistency and visibility needed to effectively manage the brand, menus and business rules for one business unit or many.
"When considering infusing new technology or functionality, we ask ourselves, 'Is it relevant?'" Rich reveals. "Bleeding edge technology doesn't always return positive results for our users. It's extremely important that we consider the true utility of a potential enhancement, which is where our firsthand industry experience as caterers proves useful."
About CaterTrax
CaterTrax is the industry leading online solution developed by hospitality professionals proven to promote, grow, manage, and sustain profitable foodservice businesses. The co-founders of CaterTrax started out with a family-owned catering business where they developed efficient processes for managing large-scale food service operations. These processes became the core of our web-based solutions platform. CaterTrax was created by passionate professionals who understand the realities of managing high volume food and hospitality businesses. http://www.catertrax.com