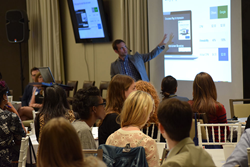 New York, NY (PRWEB) September 22, 2014
Blue Fountain Media hosted its 3rd Annual Digital Marketing Trends Forum on Tuesday, September 16, and, due to popular demand, Wednesday, September 17, 2014. The forum was held at the Gansevoort Hotel on Park Avenue South from 8:30 AM to 11:00 AM on both days. Located at 420 Park Avenue South, the Gansevoort is within walking distance of the Blue Fountain Media offices, which are located on Madison Avenue in midtown Manhattan.
Headlining the speakers was Jon-Michael Durkin, Google's Agency Development Manager, whose presentation was entitled: Finding the Right Leads: Engaging with Digital Targeting. Blue Fountain Media CMO, Christina Shaw, Marketing Director, Joe DiNardo, Director of SEO, John Marcinuk, and Senior Marketing Strategist, Ashley Kemper also gave presentations on the latest trends and tips business owners need to know about the world of digital marketing. Networking and a roundtable session with Blue Fountain Media consultants and marketing specialists took place after the last speaker.
"We are very excited that Jon-Michael Durkin from Google joined our Blue Fountain Media senior staff in outlining the best and latest digital marketing trends," said Blue Fountain Media CEO, Gabriel Shaoolian. "In the current SEO landscape, optimizing your business' desktop and mobile websites to best fit your business' needs will not only lead to more user engagement and brand awareness, it can help to increase your bottom line."
The 2015 Digital Marketing Trends Forum was a free event, and continental breakfast was served. The seminar enjoyed fantastic turnout – with almost 300 guests attending the event between each day.
For a round up of the 2015 Digital Marketing Trends Forum, including presenter slides and video of the event, visit Blue Fountain Media's blog at http://www.bluefountainmedia.com/blog/conversion-funnel-optimization-seminar.
###
About Blue Fountain Media
Based on Madison Avenue in New York City, Blue Fountain Media is a results-driven digital marketing agency focused on creative and results-driven solutions for companies ranging from start-ups to Fortune 1,000. For more information about Blue Fountain Media, visit http://www.bluefountainmedia.com.