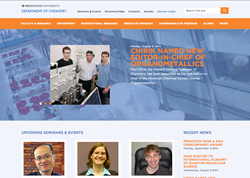 "Princeton Chemistry worked with Avatar New York as a collaborative partner, and inspired our team to create solutions uniquely tailored to the Department," - Todd Johnson, Managing Director, Avatar New York.
New York, NY (PRWEB) October 09, 2014
New York Web Design company Avatar New York announced the launch of the new Princeton University Department of Chemistry website. The website, designed and built by Avatar New York, incorporates a well branded and visually engaging web design as well as a custom video solution.
Developed on the Drupal CMS platform, the new website reflects the Department's collegial and collaborative character. The web design integrates Princeton Chemistry's focus on interdepartmental research with web content, such as Faculty biographies and News and Seminars.
The new website provides visitors an online portal to Princeton Chemistry's best of class faculty, facilities, culture, research, and news. A custom video solution includes video loops of activity in departmental facilities as well as engaging faculty video interviews, one click away from the homepage.
The launch of the new Princeton Department of Chemistry website follows Avatar New York's recent high profile educational website launches of Channel One News, the Peabody and Telly award-winning news program and digital content provider for students, and MusicFirst US / Global, the world's first completely online music education platform.
About Avatar New York
Avatar New York is a forward-thinking and technologically progressive interactive digital agency delivering robust and durable e-business solutions. Our approach is business focused, meaning we custom tailor each digital solution to match a business' current and future goals and requirements. We have almost a decade of experience helping organizations leverage design and technology to produce unique, powerful, feature-rich online experiences.