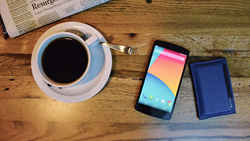 When you're near your phone, your phone is unlocked. When you leave, it locks itself. Automatically.
Chicago, Illinois (PRWEB) September 22, 2014
SALT (http://www.securesalt.com) announced today that they will begin taking pre-orders for the SALT card, the first keyless entry card for Android and iOS. The SALT card pairs with the free SALT app and enables phone locking and unlocking based on the cards proximity. The user places the SALT card in his or her wallet so when they are near their phone, their phone is unlocked. When they're not, it locks itself. Automatically.
If the SALT card loses connection with the SALT app, the phone will notify the user and show them a map of the last known location of their SALT card. SALT also locks and/or requires a PIN for any user-selected apps if the SALT card cannot be found by the phone. The average person spends almost a full hour every week just entering their PIN. That the average persons can save close to 52 hours every year just by using SALT.
SALT is currently taking pre-orders exclusively on Kickstarter. The 21-day campaign will feature the SALT card at an introductory launch price of $10 in limited quantity. The full retail price will be $15, considerably less than almost all wearable devices. For more details about the Kickstarter campaign, visit http://www.securesalt.com.
"SALT is refining security for smartphones. You don't have to enter your PIN every time you turn on your phone, yet you're getting a higher level of security," said Nikola Zistakis, Founder of SALT. "Our goal is to make your phone more secure and convenient to use on a day to day basis."
SALT features include:

Automatic locking and unlocking of a smartphone based on user proximity
Mapping of last known location of wallet or purse should either be lost
Locking of user-selected apps based on card proximity
Ultra high security with 281 trillion combinations, 2,810 times more secure than a standard eight digit PIN
Custom battery that lasts for over one year without charging
Latest Bluetooth Smart technology
"Security in the mobile space still isn't up to par. People think that if they use a four digit PIN they're safe," said Joel Paglione. "The reality is, if that's all you're relying on, make sure no one looks over your shoulder while you're unlocking your phone."
Nikola Zistakis created an initial prototype for SALT when he custom coded an app that unlocked his phone while he was at home. He realized this idea needed to be portable; why would you have to enter your PIN when you're at the park? The problem was the lack of hardware that could fulfill this vision conveniently. A few years later, with the adoption of Bluetooth Smart, technology had gotten to a point where it could support this vision.
SALT is scheduled to launch in just four months at the end of December 2014. Find out more at http://www.securesalt.com
About SALT
SALT is changing the way people use their phones. Founded in Chicago, Illinois in 2014, SALT has developed its prototype SALT app and SALT card, allowing keyless entry for your phone. The patent pending SALT system is the first of its kind providing convenience and security for smartphones. SALT is a privately held company.