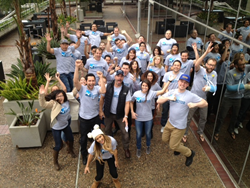 Our people are what set us apart in the industry and what makes us unique.
San Diego, CA (PRWEB) September 24, 2014
International digital advertising agency, Geary LSF, in conjunction with AD2 San Diego, a division of SDX, will be hosting an open house for all young professionals interested in a career in advertising. The event will take place at the Geary LSF downtown San Diego headquarters and is designed to provide young professionals valuable insight into the advertising industry, and career advice for getting started in the ever-changing and exciting field of digital marketing.
"As a company, we value our employees and consider them our number one asset. After all, our people are what set us apart in the industry and what make us unique," says Anna Mikituk, Human Resources Manager for Geary LSF. "We want to be able to share the talent and knowledge of our team with the San Diego community, as well as our local advertising colleagues. This event is the perfect opportunity to do just that."
The Untapped event is open to the general public and people of all ages, whether they have advertising experience or not, are welcome to join in the fun. Attendees will have the opportunity to mingle and network while food and beverages are served, followed by a brief presentation by Geary LSF Executive Vice President of Product, Ramsay Crooks.
For more information about the event, or to purchase a ticket, please visit the AD2 website here. If you're interested in a career at Geary LSF, please see the current open positions.
About Geary LSF
Geary LSF is an integrated full-service online marketing group that uniquely optimizes the digital customer engagement path, delivering more results per campaign. It provides advertisers with comprehensive services from Strategy to Development, Media Planning to Placement, SEO, SEM, Analytics, Social, Local and Mobile media. Headquartered in San Francisco, the 200-people strong Geary LSF manages campaigns for more than 240 brands worldwide including: WD-40 Company, Bumble Bee Foods, MegaPath, Aramark, Ashley Furniture, Target, Club Med and several others. For more information, please visit http://www.gearylsf.com.
About AD2 San Diego
Ad 2 San Diego is an organization for people age 32 and under who are members of the San Diego advertising, marketing, and communication community, and those interested in those fields. Ad 2 San Diego assists, educates and entertains its members through social activities, educational industry events, membership meetings, leadership workshops, community service, and participation in National Ad 2 and AAF contests.