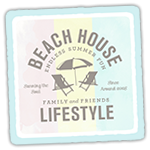 We wanted to be able to share these unique pieces and give those who live on the ocean or other shore a chance to truly create a coastal oasis.
WHITEWATER, Wis. (PRWEB) September 23, 2014
Lake House Lifestyle is pleased to announce the launch of a new online store for beach lovers at BeachHouseLifestyle.com.
Beach House Lifestyle is a carefully curated selection of artwork and home décor; wine and entertaining accessories; personalized clothing; 3-D laser-carved nautical charts; and gift ideas for those who love or live by an ocean or coast. The site's style will also appeal to those who want to capture the breezy calm of coastal living in their homes whether near the water or far.
"So many of the artisans who create products for Lake House Lifestyle also craft beautiful beach-themed items," says Lake House Lifestyle founder Brian Cooney. "We wanted to be able to share these unique pieces and give those who live on the ocean or other shore a chance to truly create a coastal oasis."
Visitors to BeachHouseLifestyle.com will discover unusual, fun and functional decorating accessories for every room in their beach house. They can also express their love for their favorite place near the beach with customized hats, apparel, mugs, signs and maps. Everything bears a distinct nautical theme.
To make shopping easier at both sites, BeachHouseLifestyle.com and LakeHouseLifestyle.com have partnered with Amazon so that customers can now use their Amazon accounts to securely purchase at both sites. This alleviates the need to remember a user name or password, enter shipping information or set up a credit card account. Purchasing using an Amazon account also offers a faster, easier way to buy via mobile.
Customers can use this trusted payment option without leaving the BeachHouseLifestyle.com or LakeHouseLifestyle.com sites, providing a seamless experience. This is in addition to our other payment options, including credit card and PayPal.
Beach House Lifestyle is sure to win over fans who seek to create a distinct beach or coastal feel at their home. New products are being added often, so shoppers are encouraged to visit again and again.
LAKE HOUSE LIFESTYLE
Lake House Lifestyle has been offering their many loyal customers handcrafted, American-made lake gifts and lake decor since 2008. All Lake House Lifestyle products are created by artists who are skilled in their trade and who take great pride in the quality, construction and workmanship of their creations. Lake House Lifestyle owner Brian Cooney has been a lake dweller for 30 years, so he understands the love that lake house owners have for these retreats and strives to provide products that are not only fun and practical, but that will evoke memories of lazy summer days spent lakeside. As they always say, "Life is better at the lake." For more information on Lake House Lifestyle, please visit http://www.lakehouselifestyle.com.