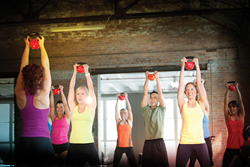 After a tremendously successful pilot launch of KettleWorX, we're excited to offer this best-in-class programming nationally – Rob Glick, Director of Group Fitness Education and Feature Programming, Life Time
CHICAGO, IL (PRWEB) September 30, 2014
Pivotal 5, LLC, a proven leader in commercial fitness and wellness solutions, today announced Life Time – The Healthy Way of Life CompanySM (NYSE: LTM) as its new national destination for KettleWorX Group Training. KettleWorX Group Training is a three-dimensional training program, designed specifically for fitness facilities. KettleWorX offers consumers of all fitness levels a means to enter into kettlebell training in a fun and effective manner. The rollout to Life Time Athletic destinations will be KettleWorX's most significant opportunity to impact hundreds of thousands of participants, Life Time members, in 3-Dimensional Training.
"We are thrilled to launch KettleWorX Group Training with Life Time, the country's most esteemed health club," stated Craig Bradley, Pivotal 5 Vice President of Global Sales. "Life Time is known for its own Group Fitness Signature Formats and providing its members with the best people, programs and places. This includes Alex Isaly and Laura Wilson, lead trainers of our KettleWorX program, and trainers at Life Time Fitness. We're excited for KettleWorX to become a group fitness class that has Life Time members across the country coming back for more."
KettleWorX Group Training is a thirty-minute class featuring 3 formats: Core, Cardio and Resistance. KettleWorX innovative 3-Dimensional Training program gets bodies moving in 3 directions and on 3 planes for more effective whole body workouts. The classes are designed to be adaptable with a variety of kettlebell weights offered in order to accommodate both novice and elite athletes with a great workout.
"As the Healthy Way of Life Company, Life Time services more than one million workouts through our group fitness programming every month," said Rob Glick, Director of Group Fitness Education and Feature Programming at Life Time. "Our mission is to provide members with an unparalleled fitness experience each and every time they enter our doors. After a tremendously successful pilot launch of KettleWorX, we're excited to offer this best-in-class programming nationally throughout the rest of 2014, into 2015, and beyond."
The KettleWorX Group Training program for fitness facilities launched in 2013, while the KettleWorX at home DVD program launches this Fall. For more information on KettleWorX visit http://www.KettleWorX.com
About Pivotal 5 LLC.
Pivotal 5 is the industry leader and trendsetter in wellness and handheld fitness products and was founded in 2002 by Adam Schumacher. The company has a dynamic portfolio of products in yoga, prevention & rehabilitation, general fitness, athletic training and specialty fitness categories. Their brands include Natural Fitness, Rejuvenation, KettleWorX, PER4M and Lifeline USA. Pivotal 5 has built a talented, competitive infrastructure focusing on innovative brand/product development, direct to consumer product supply and retail distribution through retail, infomercials and fitness facilities worldwide.
About Life Time Fitness, Inc.:
As The Healthy Way of Life Company, Life Time Fitness (NYSE:LTM) helps organizations, communities and individuals achieve their total health objectives, athletic aspirations and fitness goals by engaging in their areas of interest — or discovering new passions — both inside and outside of Life Time's distinctive and large sports, professional fitness, family recreation and spa destinations, most of which operate 24 hours a day, seven days a week. The Company's Healthy Way of Life approach enables customers to achieve this by providing the best programs, people and places of uncompromising quality and value. As of September 23, 2014, the Company operates 112 centers under the LIFE TIME FITNESS® and LIFE TIME ATHLETIC® brands in the United States and Canada. Additional information about Life Time centers, programs and services is available at lifetimefitness.com.