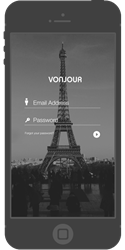 Santa Monica, CA (PRWEB) September 24, 2014
Santa Monica based Vonjour.com announced today the release of Vonjour for Startups—a zero cost phone system for enhanced customer support. In a statement that appeared on the company blog, Vonjour CEO Daniel Tawfik stated that Vonjour for Startups is "everything a startup needs to start connecting with it's customers and sales prospects."
With Vonjour for Startups, a business can create a hardware-free Cisco level phone system (previously only available for very sophisticated or large businesses) accessible on any device (mobile, tablet, and browser) in less than 5 minutes and without any costs. Vonjour's software brings the sophistication of an enterprise solution with no hardware, cross-platform accessibility and seamless user experience to the SMB.
"Vonjour started with the idea that a next generation phone company could operate with significantly less overhead. Our zero-cost startup plan allows us to provide a state of the art of phone and messaging system for any business," says Tawfik. "Vonjour is more than a phone system. With its built in ticketing system and automated messaging, Vonjour is an enhanced customer support tool for business. It's a no-cost way to start connecting to your customers and launch your company."
The release of the company's free startup plan follows last weeks release of Vonjour for iPhone. The company is also planning a release of a new Android application later this fall. The release of its mobile suite is all part of the company's "exciting mobile roadmap."
Since it's beta release in February, Vonjour has already amassed over 2500 business signups. Most importantly, over 70% of Vonjour's active monthly users log into Vonjour every week, with 40% logging in over 5 times a week. Over 60% of Vonjour users are utilizing the platform as more than a simple phone system, using the companies ticket management solution and automated messaging features to manage customer interactions.
As for the future, Vonjour is focused on product driven growth. "We are investing all of our resources into innovation. Our product roadmap for the next year is about creating new innovative ways for businesses to communicate to their customers and sales prospects. We're about creating a central hub to connect a business to its customers. We're going all in on this vision."
To learn more about Vonjour and its business phone solution, visit Vonjour.com and signup for a free Startup account.
About Vonjour: Vonjour is a Santa Monica based company with a mission of being at the center of customer conversations. We provide a seamless, free, and light-weight solution for an entire company to connect to its customers, while providing an unparalleled view of what customers are saying.