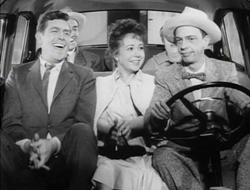 We are proud to be the Official Dealership Sponsor for the Mayberry Days Celebration! Scott McCorkle
Winston-Salem, NC (PRWEB) September 20, 2014
The excitement is building up once again for the annual Mayberry Days Festival held in Mount Airy, North Carolina. This year the Surry Arts Council will be celebrating its 25th year hosting the event that draws people from around the country who are still fans of the Andy Griffith Show.
The Andy Griffith Show is a sitcom that aired on CBS from 1960 through 1968. The show ranked by TV Guide as the 9th best show in American television history. Mount Airy, North Carolina is where the show was filmed calling it the fictional town of Mayberry on the show.
"One of the Mayberry Days events that we are looking forward to is the parade on Saturday morning," says Scott McCorkle, owner of the Mount Airy Toyota Scion and Mount Airy Chrysler Dodge Jeep Ram dealerships and key sponsor of the event. "We are proud that we could provide the vehicles for the parade this year."
The Mayberry Days Parade will be held on Saturday, September 27th at 9:00 in the morning. The parade will travel down Main Street from BB&T to the Andy Griffith Playhouse to kick off the biggest day of the festival. All the special guest and celebrities will be riding in cars from Mount Airy Toyota and Mount Airy Chrysler Dodge Jeep Ram.
Attending this year's Mayberry Days are Betty Lynn who played Thelma Lou, Karen Knotts, actress and comedian and daughter of Don Knotts, and actor James Best who played Jim Lindsey on the show. For a complete line-up of all the celebrities go to Surry Arts Mayberry Days Website.
"This is our first year as a sponsor for this event and we are really excited to be a part of such great American history," says McCorkle. "I applaud the Surry Arts Council for keeping this tradition alive and allowing all of us to step back and enjoy a time when life was a bit simpler."
As the Official Dealerships of the 2014 Mayberry Days, McCorkle encourages visitors to stop by the parking lot of the Andy Griffith Museum to pick-up event schedules and maps of the downtown area. Look for the tented area and the new cars on display.
Both Mount Airy Toyota Scion and Mount Airy Chrysler Dodge Jeep Ram are located on N. Andy Griffith Parkway in Mount Airy. Stop by for a test drive or start your shopping at http://www.mountairytoyota.com and http://www.clickmountairy.com