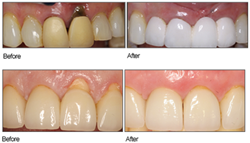 "I experienced firsthand the post-operative healing on the patients, who were treated; the one-day post-op healing was amazing" - Dr. Timko
Pittsburgh, Pennsylvania (PRWEB) September 23, 2014
Now, patients of Dr. Alan M. Timko, with receding gums, have access to a groundbreaking gum recession treatment option, The Chao Pinhole Surgical Technique™, also known as The Chao Pinhole Gum Rejuvenation™. This gum graft alternative provides patients with a scalpel and suture free experience and has minimal post-operative effects i.e. discomfort, swelling, and bleeding.
According to the Journal of American Dental Association 2003, 88% of people older than 65 have gum recession and 50% of people ages 18-64 have gum recession. Gums may start to recede for any number of reasons. Common causes of gum recession are active periodontal disease, or brushing too hard. When the gum tissue has receded either from hard brushing, grinding, or from periodontal disease, the root surface is exposed. This can cause an unappealing appearance as well as sensitivity to the temperature of foods and liquids. If the receding gums are left untreated, the situation can lead to further bone loss and possibly tooth loss, as well an unattractive smile.
In order to prevent tooth loss, recession, and sensitivity and correct cosmetic concerns caused by gum recession, periodontal treatment is necessary. Prior to The Chao Pinhole Gum Rejuvenation™, gum recession treatment required extensive cutting and suturing of the gum tissue, in conjunction with post-operative discomfort (often requiring narcotics for pain relief) and a long recovery time.
The Chao Pinhole Gum Rejuvenation™ is a much less invasive technique, which replaces large incisions with access to the surgical site requiring a pin-sized hole. Special instruments are used to delicately loosen the gum and reposition them to their natural location, covering up the recession. After the gums are relocated, small collagen strips are placed, which stabilizes the new position of the gums, thickens the gums, and replaces the need for stitches.
Minimal access is needed to perform The Chao Pinhole Gum Rejuvenation™, so patients experience minimal post-operative effects and only an over the counter medication is needed for minimal discomfort. Also, this "lunch-time lift" technique will allow Dr. Timko to treat multiple teeth in one visit and patients will leave the office with a healthier mouth and smile while having little discomfort and inconvenience.
To assess your periodontal health and learn more about The Chao Pinhole Surgical Technique™ by Alan M. Timko DMD, visit http://www.DrTimko.com and call (412) 364-6777.
About the Practice
The Timko's have been providing periodontal treatment for Western Pennsylvania since 1958. The practice was first established by Michael Timko DDS, in 1958. Periodontics was in its infancy as a specialty at that time, and Dr. Michael Timko was one of the first periodontists in Pittsburgh. Dr. Michael Timko was also president of the Dental Society of Western PA, and also served as a part time clinical instructor at the University of Pittsburgh, School of Dental Medicine, in the Department of Periodontics, for 20 years. In 1982 Dr. Alan Timko resumed the practice.
Dr. Alan Timko attended Grove City College, where he received a BS in Biology in 1975. He received his Degree in Dental Medicine from the University of Pittsburgh, School of Dental Medicine in 1980. He also received his Certificate in Periodontics from the University of Pittsburgh, in 1982. Dr. Timko is one of the few Board Certified Periodontists in Western Pennsylvania. He achieved Diplomate Status from the American Board of Periodontology in 1989. Dr. Timko currently holds an appointment as an assistant clinical professor at the University of Pittsburgh, School of Dental Medicine, in the Department of Periodontics. Dr. Timko has given numerous lectures, including presentations at the American Academy of Periodontology Annual Meeting, in Vancouver BC, and Washington DC. Dr. Timko was the first periodontist in Pittsburgh to utilize computerized charting, and was one of the first 8 dentists in the US to become certified in Piezosurgery. Dr. Timko is the first board certified periodontist in Western Pennsylvania to be certified in LANAP (a form of laser gum surgery) and The Chao Pinhole Surgical Technique. Dr. Timko maintains his state of the art practice in Pittsburgh's North Hills, where he continues to treat many of the patients who originally saw his father for periodontal treatment.