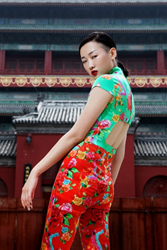 New York, NY (PRWEB) September 22, 2014
MusicDish*China and Brooklyn-based Ran Tea House will present a very special night of fashion and film to celebrate to coming of Beijing rockers Second Hand Rose on their #UselessRockUSA Tour at 269 Kent Ave in Williamsburg on October 12th starting at 7:00pm.
#UselessRockUSA Film Screening + Red&Green Fashion Event
Date/Time: Sunday, October 12th starting at 7:00pm
Location: Ran Tea House
269 Kent Ave, Williamsburg, Brooklyn
Tickets: $15 at the door
Or free if you purchase a Webster Hall concert ticket at http://pledgemusic.com/projects/secondhandrose.
The event will launch with the unveiling of the Second Hand Rose Red&Green fashion line. Designed by lead singer, Liang Long, the patterns are based on the classic floral prints of northeastern China, instantly recognizable throughout the country for the red-and-green color combinations. Hip Hop USA will present personalized red/green themed sneakers created for Second Hand Rose band members to be presented as a fashion accessory to their clothing line. Hip Hop USA will also feature 3-4 local New York artists to create live canvas and apparel art at the event.
Following the fashion segment will be the premiere of the concert DVD film of China's first rock band to play Beijing's state-owned Workers' Gymnasium, one of the most prestigious venues in the country. This is Second Hand Rose's DVD bestseller in China and features their performance style that's part cabaret, part Chinese theater, and part rock 'n' roll dance party.
The name Second Hand Rose comes from the notion that rock in China is a secondhand and imported endeavor—as such, the band's song "Leading a Dabbling Life" devolves into a Chinese sing-along version of Michael Jackson's "Smooth Criminal." After more than a decade of winning over new fans around the country, earlier this year, Second Hand Rose played for a crowd of over 30,000 at the Strawberry Music Festival in Beijing, and last year they headlined a concert in Beijing's state-owned Workers' Gymnasium, one of the most prestigious venues in the country.
Second Hand Rose links:
YouTube: http://www.youtube.com/user/2ndHrose
Facebook: https://www.facebook.com/2ndHRose
Twitter: http://www.twitter.com/2ndHrose