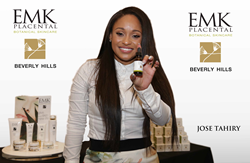 Celebrities fell in love with EMK skin care at Spring Fashion week in New York
Beverly Hills, California (PRWEB) September 24, 2014
Trendy celebrities and fashionistas got the VIP Treatment by the EMK Beverly Hills team on the scene at Mercedes Benz 2015 Spring Fashion Week held in New York recently.
Emma Myles of 'Orange is the New Black' Netflix comedy series and Dorothy Wang of 'Rich Kids of Beverly Hills,' reality series from E! were among the many who received consultations and got great tips from an international celebrity esthetician behind the EMK skin care line. http://emkplacental.com/events
The gents gave high thumbs up to the EMK Anti-Aging Face Serum for its ability to banish those after-shave nicks while feeling - and smelling- clean on the skin.
"I'm totally addicted" was a frequent tweet a few days after the show. At the show, the most common question was, 'Plant Placenta? What is that?' the EMK Placental Skin Care has, as its active, proprietary ingredient complex, the pure placenta extract from the Mimosa Ternuiflora plant grown in South America. This clinically proven botanical increases skin oxygenation by 70% and is the secret anti-aging treatment of top celebrities including Madonna, Victoria Beckham, and Simon Cowell. 'Celebrity' plastic surgeons and dermatologists, such as Beverly Hills Dr. Harold Lancer use and recommend EMK to their discriminating clientele.
EMK treatments are offered in physician's offices, spas, beauty stores and online at http://www.emkbh.com.
For information contact info(at)emkplacental(dot)com or phone EMK at 323-866-1800.
About EMK Skin Care
Founded in 2001, the mission of EMK Beverly Hills has been to bring the proven anti-aging skin treatment benefits of plant placental protein to women worldwide. EMK continues to utilize new anti-aging skin care technologies to bring about industry acclaimed skin repairing results.
Media Contact: Mary Martin, Creative Marketing at 310-880-9819. mary(at)mmcreativemarketing(dot)com