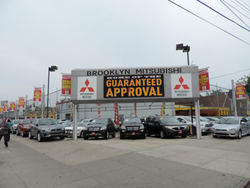 Brooklyn, NY (PRWEB) September 30, 2014
October is Fall Car Care Month, and as parents send their college students back to school this fall, Brooklyn Mitsubishi is releasing advice on car maintenance and preparation to help them ensure their cars are safe for themselves and their young passengers. This statement provides valuable information on safety, car maintenance, and preventative measures for parents as they begin to transport their kids to school this fall.
As fall weather approaches, a good first step is to replace windshield wiper blades. This will prepare vehicles for fall precipitation and winter weather further along in the year. This maintenance step is an important preventative one – it's preferable to prepare windshield wipers before heavy precipitation, rather than realize during a storm that wiper blades need replacement.
Checking the health of tires is also crucial. Parents should check that the tread on the tires is healthy – if the tread is worn down, the tires may be showing their age and need to be replaced. Shifts in outside temperature can affect tire pressure, so as the season changes, the need to monitor tire pressure increases. Parents also need to be prepared for a flat tire – they should make sure they know how to change a tire on their specific car before a flat occurs. Ensuring that the spare tire is inflated is also important in case of emergency.
Battery connections should also be checked. Connections can corrode or become loosened over time, and so they must be checked to ensure they are clean, tightly connected, and corrosion-free. Batteries generally have a lifespan of around three to five years, but even if the battery is relatively new, parents should make sure they have a pair of jumper cables handy and know how to safely operate them.
Child-proofing the vehicle is important as well, and goes beyond proper installation of car seats. Any potentially dangerous items, such as cleaning fluids, sharp objects, and more, should be removed from the backseat. Parents should make sure that child safety tools, such as child-proof window and door locks, are in proper working order. Finally, loose items should be kept in the trunk or in an area where they will not fly through the car's cabin in the event of a collision.
This leads to the final piece of advice for emergency preparation: build a vehicle emergency kit. Parents should build a kit to be prepared in case of emergency. This kit should include jumper cables, all necessary equipment to change a tire and perform other routine maintenance, bottled water, extra fluids including oil and antifreeze, and a blanket. These tools can help turn around a roadside emergency.
Brooklyn Mitsubishi supports safe vehicle operation and maintenance for all drivers, and Mitsubishi is a reliable, affordable car brand for parents. In fact, the Kelley Blue Book recently named the http://www.brooklynmitsubishi.com/inventory/newsearch/Model/Outlander Sport/ [Mitsubishi Outlander Sport __title__ Mitsubishi Outlander Sport] on their list of the "10 Best Back-to-School Cars of 2014." The automotive valuing giant collected their top picks for students heading back to school this fall. The top factors that went into their picks included practicality and affordability, and the Outlander Sport was the only SUV that made the cut.
About Brooklyn Mitsubishi
Brooklyn Mitsubishi is a leading automotive dealer serving Brooklyn, Queens and Bronx, NY. Brooklyn Mitsubishi makes the car buying process as quick and hassle free as possible, with a wide selection of vehicles and a variety of financing options to suit all credit types. Whether you have bad credit, no credit or are a first-time car buyer, you can trust that Brooklyn Mitsubishi will get you into the car or truck that's right for you. Brooklyn Mitsubishi also offers experienced and reliable Service and Parts departments that are open extra hours to help accommodate customers.