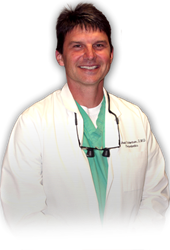 Tupelo, MS (PRWEB) September 19, 2014
Dr. J. Michael Robertson of North Mississippi Periodontics & Implant Dentistry is celebrating Self-Improvement Month this September by offering his patients the opportunity to receive dental implants to replace their missing teeth. Teeth can become lost due to gum disease, tooth decay or accidents, and many professionals estimate that around 69 percent of adults will lose a tooth before they turn 44. Over 25 percent of seniors over the age of 74 have lost all of their natural teeth.
Gum disease is one of the largest culprits that cause tooth loss in adults today. As the disease progresses, bacteria create deep pockets of diseased tissue along the gums and bone right next to the teeth. This often causes the gums to pull away, and if enough bone is lost, teeth become loose and may fall out. Dental implants can help minimize bone loss in the jaw, giving Tupelo, MS patients the opportunity to regain their smiles while also promoting jaw bone health.
Implants are created using a titanium rod that functions much like the root of a tooth. The titanium is a special metal used specifically in this type of application because of the body's affinity for binding to it. When an implant is placed, the jaw bone eventually adheres to the implant during a process known as osseointegration, creating a bond that mimics natural teeth. Without the constant interaction with the titanium implant, the bone in the jaw begins to deteriorate and may eventually cause misshaping of the jaw and face.
Dental implants can offer Tupelo, MS patients a lifetime of beautiful smiles if they are properly taken care of through the simple practice of good oral hygiene. Patients routinely maintain their implants for decades with little to no trouble, which is one reason they are the preferred method of tooth replacement throughout the dental profession. Those who would like to learn more about how gum disease causes tooth loss and the methods patients can use to restore their smiles this September, can visit D. Robertson's website for more information.
About the Doctor
Dr. J. Michael Robertson is a periodontist offering personalized dental care for patients in Tupelo, MS. Dr. Robertson received his B.A. from the University of Mississippi as a chancellor and Dean's List scholar, and his D.M.D. from the University of Mississippi School of Dentistry. He earned his certificate in periodontics from the University of Alabama. Dr. Robertson is part of one percent of dental professionals providing the LANAP® FDA cleared laser procedure for gum disease and periodontal treatment. To learn more about Dr. Robertson and his dental services visit his website at http://www.northmsperio.com and call (662) 269-1317.