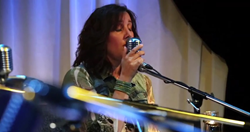 Jack & I are honored to come into the living rooms of America this Season and introduce music lovers to this incredible Nashville creative community. - Diane, Co-Founder of Nashville Unleashed TV Series
Nashville, Tennessee (PRWEB) September 20, 2014
Nashville Unleashed features well-known Nashville music talents, Jack and Diane, joined by a hand-selected roster of fellow pro-caliber songwriters.
Viewers will be drawn into the intimacy of the show's dreamy living-room design, spoiled by displays of superior musicianship and infectiously charming camaraderie between the artists. The audience is fully engaged as the songwriters share the personal stories behind the hits and their hit-worthy new songs.
Viewers experience intimate performances from a distinguished roster of artists, who happen to be some of Jack and Diane's closest friends: renowned hit songwriters, Grammy-­winning artists, and stars from ABC TV's Nashville series, Grand Ole Opry, NBC's The Voice, as well as popular independent artists making a name for themselves.
While the "in-the-round" performance style is something of a staple of the Nashville music scene, Nashville Unleashed has enhanced and mastered the concept, creating a meaningful and memorable fan experience.
With its signature "Unscripted, Unrehearsed, Unapologetic" approach, Nashville Unleashed is a refreshing alternative to "reality shows" and gives viewers an authentic glimpse inside Nashville creative community.
With coverage on a collective of cable and satellite networks, including Heartland Network (formerly TNN), Nashville Unleashed will reach over 80,000,000 households in the US and on Country TV in New Zealand, with UK and Australian networks to be added.