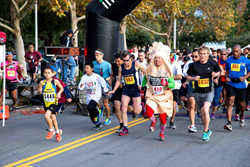 "The 25th Annual Holiday Classic will sell out quickly with only 2,500 spots available for both the Half-Marathon and the 5K. What a thrill to be part of a 25-year tradition!" -- Colleen Sproul, Race Director
Loma Linda, California (PRWEB) September 22, 2014
The Lopers Club, The City of Loma Linda and presenting sponsor, Loma Linda University Health, are proud to announce the date of the 25th Annual Holiday Classic Half-Marathon and 5K Race. This 25-year Inland Empire tradition will take place Sunday, December 7, 2014 in the heart of Loma Linda, CA. Early registration is now in progress: http://lopersclub.org/holiday-classic/
With over 1,100 participants for the 2013 race, race organizers are gearing up to accommodate 2,500 entrants and possibly more. "Last year was one of our most successful races and, in honor of our 25-year milestone, we're expecting to sell-out all 2,500 spots currently available for the Half-Marathon and the 5K," said Colleen Sproul, Race Coordinator for the Holiday Classic.
"Register early! These spots are going fast," said Sproul. "We could not do this wonderful community event each year without the support of our sponsors and our dedicated army of volunteers. This is truly a community fun fest."
All participants registered by midnight, November 17, 2014 will receive a long-sleeve commemorative 25th Annual Holiday Classic shirt and a discounted entry fee rate of $55 for the Half-Marathon and $40 for the 5K. Prices increase after midnight, November 17, 2014.
Online registration closes November 28, 2014. Register online.
Race Day registration will be available. Additionally, the Crossroads Rotary of San Bernardino will provide a pancake breakfast for all Half-Marathon and 5K participants, as well as volunteers.
"Our presenting sponsor, Loma Linda University Health, in support of its wellness program, will pay $40 of the Half-Marathon or 5K race entrance fee for employees, students and staff with a valid LLUH EID number," said Art Gallardo, Interim President for The Lopers Club.
"With our ability to do online registration through Race Central and the support of LLUH, we know this event will sell out," said Gallardo. "We set the goal of 2,500 participants to commemorate the 25th Annual Holiday Classic."
Gallardo added, "We've had interest from all parts of Southern California and out of state, as well. When we reach the goal of 2,500 participants, we will consider adding beyond the 2,500 existing race slots."
Another highlight of the annual Holiday Classic is the Elves Trot for 3-6 year olds ($10 entry fee). This fun course is always a perennial favorite as the youngsters make their way down a quarter-mile course to the finish line where they earn a Santa Claus medal.
"We have many community residents come out just to let their children participate in the Elves Trot," said Ruth Homan, Elves Trot Coordinator. "It's the cutest thing and so special to see the kids get their Santa Medal. We're looking for an extra special Santa Claus this year to hand out the medals for the Elves Trot in honor of this being the 25th year of the Holiday Classic."
------------------------------------------------
Holiday Classic Half-Marathon, 5K Race and Elves Trot Details:
The 25th Annual Holiday Classic, sponsored by The Lopers Club, The City of Loma Linda and Loma Linda University Health, will take place Sunday, December 7, 2014 starting at 7 am. The race includes a Half-Marathon, 5K and Elves Trot (children 3-6).
This long-standing community event has become one of the largest holiday racing events in the Inland Empire! The race starts near the Loma Linda Civic Center at the corner of Barton Road and Loma Linda Dr. in Loma Linda, California.
All participants registered by Monday, November 17, 2014 receive a long-sleeve shirt, and:
● Finishers medals for all finishers!
● Division medals for the top 3 finishers in each age group, male & female (5K and Half-Marathon)
● Trophies awarded to overall top male and female winner of each race.
● Santa Claus medal awarded to all registered Elves Trot Elves.
Online Registration Closes Friday, November 28, 2013 at Midnight
At this time, the race will be capped at 2,500 total participants (5K + ½ Marathon = 2500), subject to change.
Please visit The Lopers Club website http://lopersclub.org/holiday-classic/ for more information and to register.
Race Start Times
7 a.m.–Half-Marathon and 5K Run and Walk
8 a.m.–Elves Trot about 1/4 mile (for children ages 3 through 6 years)
Pancake Breakfast
Free breakfast for all Half-Marathon and 5K participants beginning at 7:30 AM.
(Must show race number/bib; Elves Trot participants not included.)
Free Breakfast for All Volunteers
Breakfast for non-participants is available for $4.00 per adult or $3.50 per child 12 or under.
Breakfast is sponsored by the Crossroads Rotary Club of San Bernardino.
Registration and Chip/Bib Pick-up Options through Friday, November 28, 2014:
1. Register online at: http://lopersclub.org/holiday-classic/
2. Direct Register link
https://wdc.rccal.com/racecentralpublic/main.cfm/holclassic2014/DFA92D8F817E5B08FCAAFB50D03763CF/?do=userform&f=1
3. Registration is also available through the The Running Center in Redlands, California Registrants will receive their Chip & Bib immediately – eliminating waiting in line on race day!
Registration and chip/bib pick-up is available at The Running Center in Redlands, California during store hours:
M-F 10 AM to 7 PM
Sat 10 AM to 6 PM
Sun 12 noon to 5 PM.
(Requires swipe of a valid California State Driver's License and Debit/Credit Card.)
The Running Center is located at 1430 Industrial Park Ave. in the Redlands Tri-City Center off Alabama St., Redlands, CA.
Holiday Classic Half-Marathon, 5K and Elves Trot Entry Fees
Entry Fees Half-Marathon
$55 prior to Midnight, November 17th
$60 prior to Midnight, November 28th
$70 race day
Entry Fees 5K
$40 prior to Midnight, November 17th
$45 prior to Midnight, November 28th
$60 race day
Entry Fee Elves Trot
$10 through Race Day
(T-shirt and breakfast not included)
Course Note: For the safety of all participants and to satisfy insurance requirements, absolutely no dogs, baby joggers, strollers, bicycles, roller blades or other wheeled vehicles are allowed on the Holiday Classic course.
Special Pricing for LLUH
Loma Linda University Health employees, staff and students can save $40 off regular registration fees by entering their 8-digit EID Number (not employee number) when registering. Please note there is only one registration discount per LLUH EID number and only the person assigned to the LLUH EID number is eligible for the discount. The discount can only be used for the 25th Annual Holiday Classic if it has not already been applied to 2014-15 membership for The Lopers Club Marathon Clinic.
Volunteer Information
Race volunteer hours may be used for high school and college community service.
Volunteers needed for these categories:

Water Stops
Finish Line
Race Day Registration
T-Shirt Distribution
Traffic Control
Awards Distributions
Start Line/Finish Line
Elves Trot
Cleanup Crew
All Volunteers must register online either through http://lopersclub.org/holiday-classic/volunteers/ or through the direct registration link: https://wdc.rccal.com/racecentralpublic/main.cfm/hdayClassic2014/4E9CEC1F583056459111D63E24F3B8EF/?do=userform&f=1
All Volunteers receive a long-sleeve Volunteer T-shirt (if they register as a volunteer by November 17th, 2014) and a free pancake breakfast.
Additional information at: http://lopersclub.org/holiday-classic/volunteers/
Sponsorships
To become a sponsor for the 25th Annual Holiday Classic,
Contact: Colleen Sproul, Race Director
Phone: (760) 617-9590
Email: holidayclassic(at)lopersclub(dot)org
Chip timing provided by Race Central.
No refunds; race will take place rain or shine!
------------------------------------------------
About The Lopers Club:
The Lopers Club (originally known as the Loma Linda Lopers) started 37 years ago in 1977 and has been going strong ever since. Over the years, runners and walkers throughout the Inland Empire have joined The Lopers Club to participate in the club's training program (known as the Clinic). The positive and extensive impact the Lopers organization has had on people throughout the Inland Empire led to the name change in 2007 to embrace members from all over Southern California.
While the Lopers originally trained for the Honolulu Marathon, the Club decided in 1986 to make training for the L.A. Marathon one of its major events. Nearly 100% of the members who complete the training program complete their first marathon or half-marathon each year.
The Lopers meet on Sundays at 6:30 a.m. at the Drayson Center on the campus of Loma Linda University. The weekly Lopers Club Clinic agenda begins with a 30-minute program that includes renowned guest speakers who teach and share information about every aspect of training (i.e. nutrition, running gear, shoes, hydration, motivation, etc.). The clinic starts in August and goes through March, culminating with the LA Marathon and the Club's annual banquet. Members continue to meet from April through July but in a less formal atmosphere.
Each week, after the guest speaker presentation, usually around 7:00 a.m., the members hit the road for their training miles. Members are assigned "pace groups" so they are training with others at their similar ability level. The pace groups are led by pace leaders, experienced marathoners who help train other members to reach their goals.
Experienced members of The Lopers Club participate in a variety of races throughout California, the nation and internationally. This year a number of Lopers Club members participated in the Rome Marathon, as well as the Boston Marathon. For more information about The Lopers Club, including membership, go to http://www.lopersclub.org.