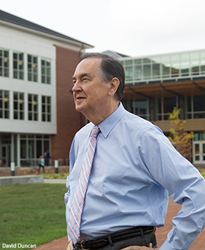 Lynchburg, Va. (PRWEB) September 19, 2014
Syndicated columnist, author, and political commentator Cal Thomas visited Liberty University on Thursday to donate his personal collection of columns to the university archive at the Jerry Falwell Library.
The collection spans 30 years, comprising more than 3,000 articles.
"I want students now and in the future to see how a follower of Jesus who has been in journalism takes world and national events and processes them through the Word of God and thinks. … Not every column, of course, can be directly related to biblical truth, but you will see it sparkle throughout, I hope. And then I hope students who are interested in a media career will see how I was able to do it," Thomas said.
His work has appeared in more than 500 newspapers, and he has written more than 10 books. Thomas is a regular contributor to Fox News and has been a guest on NBC News and CNBC. He is a longtime friend of Liberty, having addressed the student body in Convocation most recently in February 2012.
Marcy Pride, dean of the Jerry Falwell Library, said Thomas is the first among many Christian public influencers whom she expects will share their work with the library.
"Cal Thomas' body of work is certainly at home at Liberty University," Pride said. "Having all of his columns in one place, cataloged and searchable, will serve as a rich resource for our faculty and students, as well as researchers from around the globe who want to study the Moral Majority and other aspects of the Christian conservative movement. As the work of a conservative icon and prolific writer, Mr. Thomas' collection is exceptional."
Thomas' long relationship with the university began under Liberty founder Dr. Jerry Falwell. Between 1980-85, Thomas was the vice president of communications for the Moral Majority, Falwell's conservative political lobbying group. Several of Thomas' children and grandchildren have attended the university throughout the years, a trend he expects to continue through succeeding generations.
"This is a university that I am happy to be identified with, and have my columns identified with," Thomas said. "I think this is where the future is for serious believers, and it is just great to be back here. It's exciting and full of energy, and I'm very proud to be associated with it."
The Jerry Falwell Library opened in January, affording students the latest in educational technology and resources, a variety of learning environments, and a convenient food court in its spacious 170,000 square feet.
About Liberty University
Liberty University, founded in 1971, is the largest private, nonprofit university in the nation, the largest university in Virginia, and the largest Christian university in the world. Located near the Blue Ridge Mountains on more than 7,000 acres in Lynchburg, Va., Liberty offers more than 450 unique programs of study from the associate to the doctoral level. More than 200 programs are offered online. Liberty's mission is to train Champions for Christ with the values, knowledge, and skills essential for impacting tomorrow's world.