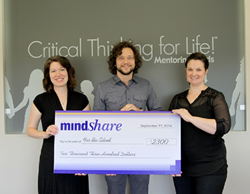 Tyler, TX (PRWEB) September 21, 2014
The employees of Mentoring Minds have a spirit to serve and share. It's more than just part of a mission statement or policy; it's actually part of the Mentoring Minds' ethos. Because of a shared passion for helping others, Mentoring Minds created a program for service called MindSHARE. MindSHARE encourages the team at Mentoring Minds to be active members and volunteers in the community. Employee-nominated organizations are evaluated by the employee-based MindSHARE committee on several factors such as employee involvement and organizational reach. Recently, the MindSHARE committee awarded a total of $5000 to four organizations to assist the non-profits' missions.
Awards were given to:

About Mentoring Minds
Founded more than a decade ago, Mentoring Minds, the Critical Thinking for Life Company, develops affordable, effective learning tools that give students the skills to succeed, not just in the classroom, but in life. Experienced educators create K-12 print and online resources and iPad apps that integrate best practices for instruction, assessment, and learning for students across the nation. Mentoring Minds resources incorporate the development of critical thinking and are proven to help students achieve increasingly higher academic outcomes in preparation for the 21st century. For more information about Mentoring Minds and its educational resources, call 800-585-5258 or visit http://www.mentoringminds.com/.