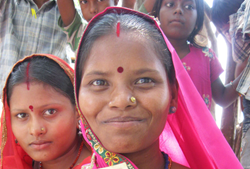 Women are the solution to ending poverty in the world, and through our Women Empowered Initiative, nearly a quarter of a million women are already working together to improve the lives of their families and communities.
San Diego CA (PRWEB) September 22, 2014
PCI (Project Concern International) announced plans to significantly expand its work to equip women around the world with tools and training to turn the tide on poverty. Through the Women Empowered (WE) Initiative announced at the CGI Annual Meeting, 250,000 more women will now join community-led groups to pool their savings, invest in their own businesses, and transform their communities.
"Women are the solution to ending poverty in the world, and through our Women Empowered Initiative, nearly a quarter of a million women are already working together to improve the lives of their families and communities," said PCI President and CEO George Guimaraes. "This new commitment will enable us to double the reach of this program to an even more significant global scale."
Extreme poverty and a lack of access to investment opportunities is still a major barrier for women and girls around the world. But research shows supporting women's economic and social advancement increases economic productivity, improves the lives of children, and builds stronger communities.
"Women Empowered groups begin with women's saving groups and leadership development, and result in the transformation of families and communities for generations," said Sarah Emerson, Director of PCI's Women Empowered Initiative. "To date this program is achieving extraordinary results, with participants amassing more than $2.5 million dollars in investments in villages in 12 countries over the last two years."
More than just a microfinance program, the WE Initiative is integrated into more than 20 PCI programs throughout the world addressing issues like HIV/AIDS prevention, food security, family health, and sanitation. This ensures that economic, health, and nutrition issues are addressed in community groups.
PCI will use its signature "Lives Changed Indices" (LCI) to measure the impact of WE groups on social empowerment and enhanced quality of life in areas such as gender equity, social capital, education, and health. The LCI will also include three new modules to measure civic engagement, leadership and access to health care.
"Our new measurement tools will demonstrate just how much of an impact these programs can have in the long run and allow us to expand WE to an even greater degree," said Guimaraes.
The WE Initiative currently supports more than 230,000 women through 13,000 microfinance savings groups. WE groups are made up of 15-20 local women who are empowered to determine their own leadership roles, savings amounts, loan sizes, and individual or group investment decisions. Facilitators train them on savings, financial literacy, bookkeeping, business planning, leadership, and public-speaking.
About PCI: PCI's mission is to prevent disease, improve community health and promote sustainable development worldwide. Motivated by a concern for the world's most vulnerable children, families and communities, PCI envisions a world where abundant resources are shared, communities are able to provide for the health and well-being of their members, and children and families can achieve lives of hope, good health and self-sufficiency. For more information, visit http://www.pciglobal.org.
About the Clinton Global Initiative: Established in 2005 by President Bill Clinton, the Clinton Global Initiative (CGI), an initiative of the Clinton Foundation, convenes global leaders to create and implement solutions to the world's most pressing challenges. CGI Annual Meetings have brought together more than 180 heads of state, 20 Nobel Prize laureates, and hundreds of leading CEOs, heads of foundations and NGOs, major philanthropists, and members of the media. To date, members of the CGI community have made more than 2,900 commitments, which are already improving the lives of more than 430 million people in over 180 countries.
CGI also convenes CGI America, a meeting focused on collaborative solutions to economic recovery in the United States, and CGI University (CGI U), which brings together undergraduate and graduate students to address pressing challenges in their community or around the world. For more information, visit clintonglobalinitiative.org and follow us on Twitter @ClintonGlobal and Facebook at facebook.com/clintonglobalinitiative.