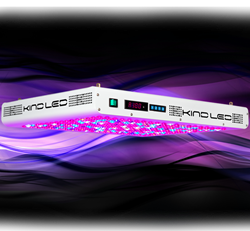 The new release of the K5 series XL 1000 grow light has been a tremendous success.
Santa Rosa, CA (PRWEB) September 23, 2014
On September 9th, 2014, the indoor grow community was rocked by the arrival of the most technically advanced horticultural LED grow light that they have ever known. Kind LED had done it again with the XL750 and XL1000, releasing a light that was astounding the beta testers as well as the experienced horticulturalist, because it has what the whole community has been waiting for: custom control over the light spectrum. Kind LED's grower-tested 12 band spectrum (also known as "the perfect spectrum") has been shown to maximize performance of full sun fruiting and flowering plants, especially annuals the finish in autumn sunlight, like peppers or tomatoes.
The design of the K5 series lights was in accordance with the current methodologies of growing, where growers are lighting their rooms with 1000w high-pressure sodium lights, just like street lighting. As you can see in progressive cities across the United States, those old yellow street lights are being replaced with LED fixtures, because although the cost up front is higher, the ongoing costs of changing bulbs, maintaining ballasts, and the excessive electrical consumption all warrant the installation of these higher efficiency lights. The advantages of LED beyond financial feasibility are that the light color can be tuned in to fit the needs of the user. Grow lighting benefits from this option greatly, because plants can only absorb colors within specific wavelengths. This range of colors is known as the PAR spectrum (Photosynthetically Active Radiation) and contains all colors between 400 and 700 nanometers in wavelength. Within this spectrum, different plants absorb different colors for their specific metabolic needs, and Kind LED has dialed in an optimal balance of colors to provide more of what the plants need, and less of what are considered the minor accessory colors, but theirs is a full-spectrum light, and now, from a convenient remote control, the spectrum can be changed to fit the growth stage or species of plant.
Kind LED is known for high performing lights and great customer service, and along with a great reputation for reliable warranty support, they have found themselves at the top of their industry.