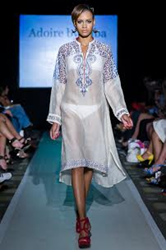 Phoenix, AZ. (PRWEB) September 22, 2014
Phoenix based couture designer, Saba Iqbal will be launching her luxury women's apparel brand, Adoire by Saba, at Phoenix Fashion Week this fall. Saba is one of 13 designers selected to compete a la Project Runway. These handpicked designers have the opportunity to strengthen their business skills, as well as grow their brand by competing in various challenges presented to them over the (4) months leading up to fashion week. The winner of the Emerging Designer Contest is officially announced on the closing night of fashion week and receives a prize package valued at over $10,000 of goods and services to assist them in successfully launching their brand. This highly anticipated red carpet event includes a line-up of fashion shows and a shopping marketplace showcasing Adoire by Saba as an emerging brand of the southwest.
Adoire by Saba is premiering a limited edition couture collection of 12 pieces including one highly anticipated bridal gown. Saba combines a masterful display of old world craftsmanship applied to a New World Aesthetic with an emphasis on socially conscious, sustainable manufacturing. In a world where sweatshops paying slave wages are part of a global industry, Saba has already succeeded at doing something that mega designers and manufactures claim is impossible to do without sacrificing the bottom line. Adoire by Saba is manufactured in Pakistan by workers who enjoy fair wages, training and educational assistance. Inside sources predict that regardless of the outcome of the competition, Adoire by Saba is definitely a brand to watch since so many are rooting for this young woman to win not only for her talents, but for her social conscience.
Saba Iqbal started Adoire by Saba when she saw a demand for artisanal hand embroidery and construction. "Our customers appreciate the quality and design along with our sustainable manufacturing practices," Saba revealed in a recent interview. "I have seen an increase in the numbers of consumers who care about who makes their clothing." To that end her company is helping families in Pakistan build the skills and confidence for a better future. So, it was no surprise that Adore by Saba was discovered by Phoenix Fashion Week and accepted as one of 14 Emerging Designers to be showcased at the fall event. "Each year our team travels to (10) cities in search of the best emerging designers in the nation. When we discovered Adoire by Saba this year, we were very impressed with the hi-quality design and long term vision, we are honored to add this brand to our line-up for Phoenix Fashion Week 2014," said Executive Director, Brian Hill.
The launch will be held at the modern Talking Stick Resort in Scottsdale from October 1-4, 2014. Adoire by Saba will be unveiling the Spring 2015 collection with 12 limited edition couture pieces exclusively for Phoenix Fashion Week. "I'm very excited to be a part of Phoenix Fashion Week because the Emerging Designer program is highly selective. I'm humbled that they selected Adoire by Saba and I anticipate showcasing a collection unlike any other," said Saba Iqbal.
Twitter @AdoirePHXfashionweek. #Adoire#PHXfashionweek and #emerging designer.
https://www.facebook.com/adoirebysaba
Buy Adoire by Saba at http://www.adoire.com and win a chance to meet Saba Iqbal at Phoenix Fashion Week in October.
ABOUT ADOIRE BY SABA
Adoire by Saba is a luxury apparel brand that embodies the style and sensibilities of its designer and founder, Saba Iqbal. Inspired by travel, culture and the arts, Adoire by Saba reveals artisanal and exotic apparel for the modern woman. The brands mission is to make women look and feel unique with effortless elegance. Centered on quality, service and social responsibility through sustainable business practices, Adoire by Saba gains prominence as an influential emerging designer. For more information, please visit: http://www.adoire.com
ABOUT PHOENIX FASHION WEEK
Phoenix Fashion Week is the leading fashion industry event in the Southwest. The organization's mission is to bridge the gap between national and international designers and premier retailers and top fashion media. Phoenix Fashion Week's ultimate goal is to garner global exposure for Arizona's fashion industry. Through educational fashion seminars, year-round fashion events, and charitable partnerships, Phoenix Fashion Week is gaining rapid acclaim for its community-service efforts and for infusing world-class innovation into the Southwest. For more information, visit: http://www.phoenixfashionweek.com
Dorothy Mannfolk | Mannfolk Public Relations
http://www.mannfolkpr.com dorothy@mannfolkpr.com
Main: 323.460.2633