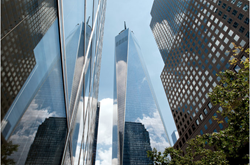 Part of Servcorp's mission is placing new offices in highly desired areas throughout the world
(PRWEB) September 23, 2014
Servcorp, a recognized leader in the Executive Suites and Virtual Office industry, plans to open new offices at the One World Trade Center in early 2015. The offices, which will feature professional boardrooms, private offices and private workstations, will span the entire 85th floor of the building.
The 34,775 square foot space will be Servcorp's fourth Manhattan location, and the company is reportedly expecting to spend $1.8 million on building out the space for future clients. As a part of the lease, Servcorp agreed to occupy the space for at least fifteen years.
"Part of Servcorp's mission is placing new offices in highly desired areas throughout the world," said Jennifer Goodwyn, Vice President of Servcorp USA. "All future clients at our One World Trade Center location will enjoy easy access to public transportation, unparalleled views, and offices at a premium location with an address that's instantly recognized around the world."
By taking on the space, Servcorp will provide single-person office users with the opportunity to call the location home; something they haven't been able to do until now. With the newest lease, the building is almost 57.5 percent occupied; other tenants include Condé Nast, Legends Hospitality - a sports entertainment firm owned by the New York Yankees, Morgan Stanley, and Bank of America.
One World Trade Center stands at 1,776 feet and remains a historic, symbolic monument to those killed in the September 11 attacks. The iconic building was crowned the tallest building in the United States last year. One World Trade Center is on schedule to make its official debut at the end of the year, and Servcorp will move in during the first quarter of 2015.
"Servcorp is excited to provide small business owners and entrepreneurs with new opportunities," said Goodwyn. "Those who could only dream about having an office in a location like One World Trade Center can now make that dream a reality."
About Servcorp:
Servcorp is committed to being the world's best executive suites and virtual office provider. With a business founded on principle and a focus on helping business owners reduce costs by sharing the overhead, Servcorp has helped small businesses and large corporations alike succeed. Founded in Sydney in 1978, Servcorp now operates in nearly 140 locations worldwide. In 2010, Servcorp expanded into the United States, and has been providing affordable access to the best facilities and technology in some of the best locations in the best cities around the world.