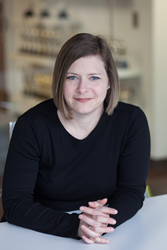 Moira Vetter walks the walk to support her staff, her clients and the larger community in growing and achieving their ultimate goals and realizing their best potential. - Carol Godfrey, VP, Southwire Company
Atlanta, GA (PRWEB) September 21, 2014
Not all leaders are cut from the same mold or embody the qualities of Leadership Character.
On September 24th, the Turknett Leadership Group in conjunction with the Greenleaf Center for Servant Leadership will present its 2014 Leadership Character Awards. Moira Vetter, founder and CEO of Atlanta-based Modo Modo Agency, is among the 11 finalists for the Small to Medium Sized Business CEO award.
Vetter, who has supported nearly 200 businesses over the past 27 years, was nominated not only for her success as a business leader, but also her work in community service, mentoring and educational outreach efforts. Some recent achievements:
She founded NoYo Press, and authored and published AdVenture, An Outsider's Inside View of Getting an Entrepreneur to Market. The book draws on Vetter's experience as a consultant to entrepreneurs, and reveals the unique psychological and commercial drivers that must be considered when ushering them to market.
She sits on the American Marketing Association Executive Advisory Board and is president-elect of Atlanta's Business Marketing Association. She was the AMA 2014 Agency Marketer of the Year.
In the last year, Vetter invested $20,000 in training and workshops for her agency's account and creative teams, exceeding 100 hours of professional development for a team of 15. Additionally, Vetter initiated the agency's DoGooder Program, donating the entire Modo Modo Agency team one business day each quarter for community service projects equaling 400+ hours in 2013 alone and over 17 organizations since the company's founding in 2007.
Under her leadership, the firm has made a significant commitment to pro bono support of worthy organizations including strategic, marketing and creative support for over 11 groups, some of whom have recently been acknowledged in the Wall Street Journal and Forbes.
A 2013 Graduate of Leadership Atlanta, Vetter is a tireless mentor who enjoys nurturing young minds and careers. She serves on the Georgia DOE Marketing Cluster, helping create a marketing curriculum that ensures students are adequately prepared for the business world. She is a mentor for the Founder Institute, Right Management consultants, the 2014 Forge Healthcare Hackathon and ideas for good.
Summing up how Vetter exemplifies the virtues of Leadership Character, nominator Carol Godfrey of Southwire Company had this to say: "Moira Vetter believes in starting with the end in mind, working backward, and ensuring that the end you envision is one that serves all stakeholders. She walks the walk to support her staff, her clients and the larger community in growing and achieving their ultimate goals and realizing their best potential."