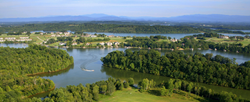 2014 Best Tennessee Community of the Year
Knoxville, Tennessee (PRWEB) September 22, 2014
Residents from Eastern Tennessee chipped in for a great cause this summer – raising much-needed money for CASA for Kids in Monroe, Tennessee. The event, "Chip in for a Child" took place at Rarity Bay's golf course overlooking Tellico Lake. More than 100 men and women came together for the cause. The event was sponsored by Fritts & Associates and Fritts Financial of Knoxville.
Rarity Bay offers more than its exceptionally maintained golf course and practice facility to the local community. It is a friendly neighborhood consisting of active adults enjoying personal enrichment and lending their support to the Eastern Tennessee community in any way they can. The Rarity Bay clubhouse hosts a long list of annual events sponsored by the community's residents for the young and young-at-heart. Events include junior golf and tennis camps which delight grandchildren during summer stays on the lake, while retired executives find themselves involved with the Rarity Bay Yacht Club, dog park meet up and much more.
Social clubs focus their leisure interests on the active adult retiree who enjoys gardening, quilting, specialized fitness programs, personal enrichment, fine art and craft creation, horseback riding and yachting – the list seems endless!
Amenities at Rarity Bay include a swimming pool, fitness center, tennis courts, equestrian facility, walking and hiking paths and health oriented dining cuisine. Because of its perfect location on rolling green hills and the backdrop of Tellico Lake and the Great Smoky Mountains, Rarity Bay's golf course is often called Tennessee's most beautiful golf course. Tellico Lake waterfront homes at Rarity sit on the clear waters of Tellico Lake.
Having the sweet combination of everything, Rarity Bay was named Real Estate Scorecard's 2014 Bliss Award Winner for Best Tennessee Community of the Year.
These days, while the calendar says it's the beginning of autumn, CASA for kids in Monroe, Tennessee is gearing up for the upcoming holiday season. This year's 6th Annual Festival of Trees will be held on November 14-15, 2014. It will be held in Monroe County, at the Tellico West Conference. It's CASA for Kids in Monroe, Tennessee's biggest fundraiser of the year. All of the money earned from fundraising is used directly for CASA for Kids in Tennessee. CASA stands for Court Appointed Special Advocates. The agency continues to be assigned cases from the Juvenile Court and so it continues to need new volunteer child advocates.
The efforts of this organization are supported financially by individual donations, grants, corporate donations, and by our premiere annual fundraiser, the "Festival of Trees, Through the Eyes of a Child." This fundraiser is an outstanding event. It not only raises dollars to help CASA for Kids in Monroe, Tennessee, it continues advocating for the neediest of our citizens but is truly one of the outstanding annual events in the area.
According to the Chronicle of Philanthropy, Tennessee ranks fourth nationally when it comes to the amount of discretionary income given to charity. Residents there donate an average of 6.6% or just over $3,800 a year. That spirit of generosity is alive and well in the Tellico Bay area, and its master-planned communities including Rarity Bay.
Homes with docks on Lake Tellico allow for private boat slips. They are ideal for full-time retirement living or for a second home. Fishing, boating, skiing and golfing around the shores are among the fun things residents with Tellico Lake waterfront homes can enjoy.
The area is centrally located to interstates, shopping and many popular destinations. Residents have easy access to top ranked medical care, University of Tennessee activities, and the Knoxville airport. Tellico Village is also close to the Great Smoky Mountains National Park, Pigeon Forge, and Gatlinburg.
To see Rarity Bay, contact Karen Millikan of On the Lake Realty at 423-519-3258.
About Real Estate Scorecard:
Real Estate Scorecard writes unbiased real estate reviews providing in-depth information about popular gated communities in Florida, Georgia, North Carolina, South Carolina and Tennessee, all in an effort to help people discover where to retire in the Southeast.
Website: http://realestatescorecard.com