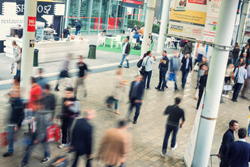 Many investors are coming in and renovating older properties – hotels and commercial buildings. Heavier workloads and further start dates cause a scarcity of good, qualified labor. Use a reputable contractor with a good workforce. - Jordan Grow
Orlando, Florida (PRWEB) September 24, 2014
Universal Contracting professionals, Jeff and Jordan Grow, use The Show Conference & Expo at the Orlando World Center Marriott as a unique teaching opportunity, supplying best practice tips and cautions. This year, they will train attendees how to ask the eight most important questions everyone should inquire of commercial contractors.
Jeff Grow advises, "Always research who you are using. Don't stop at checking out the contractor; find out what sub-contractors they will use, verify their credentials and experience, and research their reputations. Don't be afraid to ask in-depth questions."
8 Questions To Ask Commercial Contractors
1. Is the contractor licensed?
Jeff Grow recommends avoiding extremely low pricing that seems too good to be true.
"Low prices often indicate use of sub-grade materials, sub-par or unlicensed sub-contractors - the general contractors may not even be licensed or may not do work per construction code."
2. Is the contractor insured?
3. How long have they been in business?
4. Can the contractor provide references of other completed jobs? What is their current workload?
A commercial contractor that is busy with other jobs is a company that is not simply looking for work - they are in business and have projects that can be seen and referenced.
5. Is the contractor involved with or a member of local or national trade organizations like Associated Builders and Contractors (ABC), or Florida Roofing, Sheet Metal and Air Conditioning Contractors Association (FRSA)?
Look for contractors who are affiliated with trade organizations that foster and encourage a high standard of business ethics among its members and seek to inform the general public of the importance of doing business with competent and ethical firms.
6. Which materials will be used and what is the warranty on the materials?
Obtain product names, brands and specific materials. To ensure quality materials are used, research the products and warranties.
7. In what ways can the contractor save the customer money?
"Universal Contracting uses 'Value Engineering' to help owners save money in ways they may not have considered. We propose ideas to make the job more cost-effective; in addition to giving them estimates for exactly what they ask for, we also propose alternatives to help them save on the project."
8. Does the contractor guarantee their work?
Ask a potential contractor not only about product warranties, but how long their workmanship is guaranteed.
Universal Contracting will also share insider tips from the commercial contracting industry at The Show Conference & Expo.
Commercial Contracting Best Practice Tips:

Get detailed estimates up front, including: scope of work, products, specifications, scheduling, and pricing.
Interview your contractor; he is your primary manager of all work, materials, and personnel for the job.
Request a clear, detailed contract with the potential contractor. Get a flow chart and time schedule - scheduling and work flow are important factors. Ask how the job site will flow through the duration of the project - after work begins, have regular, scheduled meetings with the project manager.
If getting multiple bids, compare apples to apples and compare scopes of work on like jobs - all estimates should be for the same work.
"Everyone needs to be on the same page when it comes to pricing. So commercial contractors can accurately bid on a project, it's imperative for customers to understand and properly convey which products they wish to use."
About Universal Contracting
Jared Mellick and his father, Ken Mellick, are the owners of Central Florida's premier construction company, Universal Contracting, a family-run business which has been serving homeowners and business owners in the Greater Orlando area for more than 20 years. Together they host "In the House with Ken & Jared," a local radio home improvement and construction talk show that airs Saturday mornings at 9am on WOKV 104.5 and Sundays at 2pm on WDBO 96.5FM. Visit the Universal Contracting website or call 407-831-0088 for more information or a free estimate on your next Commercial Project.