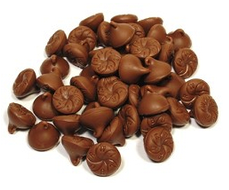 When we heard the news about the imminent price increase of Wilbur Buds, our first thought was that we need to get this information out to our customers immediately so they could stock up before the price increase hits all of us
(PRWEB) September 21, 2014
Weaver Nut Company, Inc. has announced today that Wilbur Buds, the chocolate that everyone in Lancaster County (and across the country) has grown to love, will be taking on a massive price increase (about 17%) effective 10/01/14.
Weaver Nut has stated they will be accepting orders of Wilbur Buds at the current price until 9/26/14.
After that date, they will be raising their prices to reflect the increase in pricing from Wilbur.
Wilbur Chocolate Company is a national chocolate maker located in Lititz, Pennsylvania. They have been in business for almost 150 years and produce more than 150 million pounds of chocolate a year, sold to major food companies and small shops around the world. *
The company was bought by Cargill in 1992 and is now part of that company's cocoa and chocolate labels, which also includes Peter's Chocolate, Gerkens Cacao, and Toshoku Ltd. *
Weaver Nut Company, Inc. is located a few miles away from Wilbur, in the town of Ephrata, Pennsylvania and has been selling Wilbur Buds to their loyal customer base for over 20 years.
Weaver Nut is known for their Golden Rule: "To serve you, the Customer, as you would want to be served, with quality, integrity, and enthusiasm!"
For this reason, Vincent Weaver, CFO of Weaver Nut Company, Inc. states: "When we heard the news about the imminent price increase of Wilbur Buds, our first thought was that we need to get this information out to our customers immediately so they could stock up before the price increase hits all of us."
Weaver Nut sells both the dark chocolate and milk chocolate Wilbur Buds on their customer friendly website, which can be found here: http://www.weavernut.com/WilburBuds.
Weaver Nut encourages their customers who love Wilbur Buds and are running low on them to stock up before 9/26 and save extra money.