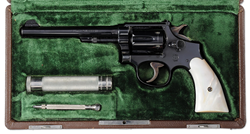 This Roosevelt family Smith & Wesson revolver presents an amazing opportunity to own a true piece of fully documented United States history; this firearm is truly in a class all unto itself. - JR LaRue, Lead Consultant, Julia's Firearms Division
Fairfield, Maine (PRWEB) September 22, 2014
James D. Julia, Inc., one of the nation's top ten antique auction houses, is excited to present this extraordinary piece of American history - a prized possession of America's "First Lady of the World" - in association with the company's upcoming three day Outstanding Firearms Auction to be held on October 7th - 9th, 2014. This Presidential-tier offering with full provenance is certain to be of great interest to scholars, firearms and history enthusiasts, as well as museums around the world, and will again showcase James D. Julia and the company's specialists as the foremost firearms auction company in the world.
This firearm, lot #3173, estimated conservatively at $45,000-65,000, is equally outstanding for its design, comprehensive documentation, and backstory. The .22 caliber, blue finished gun has a 6" barrel, partridge front sight, and a round top frame with an adjustable rear sight. It is detailed with smooth two-piece pearl grips, its original silver medallion, and diamond checkered, matched numbered walnut grips. It is housed in a distributor supplied, green velvet lined, brown leatherette covered hard case; its interior is recessed for the revolver. The case also includes a nickeled brass pocket cleaning rod and a small collapsible screwdriver. The silver plaque on the lid is engraved "OCT. 11, 1933 / May your aims always be perfect / EARL". The lot is accompanied by an extensive collection of related ephemera, including a 1974 notarized affidavit about the firearm from John A. Roosevelt, Mrs. Roosevelt's youngest son; a copy of Mrs. Roosevelt's pistol permit from the State of New York; copies of Roosevelt family photographs; magazine articles; and other letters and paperwork.
The Roosevelt family story is integral to the legacy of America and is again in the spotlight with the new Ken Burns' documentary, The Roosevelts: An Intimate History, currently airing on PBS stations across the country. It is interesting to note that Mrs. Roosevelt was a good markswoman and often carried a handgun in the glove compartment of her car, especially when she was driving unaccompanied. She received this firearm, and learned her shooting skills, from Earl Miller, her bodyguard, who was assigned to her in 1928 when Franklin D. Roosevelt was elected New York State Governor. Miller was a highly accomplished individual; his professional experience included being a New York State Trooper, WWI and WWII Navy Veteran, middleweight boxing champion and an alternate to the 1920 United States Olympic boxing team, and professional body guard to national politicians. He also taught Mrs. Roosevelt equestrian, tennis, and swimming skills.
According to J.R. LaRue, James D. Julia's head consultant, Firearms Division, Rare Firearms and Military Division, "This Roosevelt family Smith & Wesson revolver presents an amazing opportunity to own a true piece of fully documented United States history for two key reasons. First, extremely few fine firearms from Presidential families ever become available on the secondary market - the overwhelming majority are already in museums and other historical archives. Second, it is doubly rare to have one with direct connections to a high profile woman from this period, as so few were associated with firearms in the 1920's and 1930's. This revolver - for these and many other reasons - is truly in a class all unto itself. "
About James D. Julia, Inc.:
James D. Julia, Inc., one of the top ten antique auction antique houses in North America, is headquartered in Fairfield, Maine. The company also has an office in Woburn, Massachusetts. In business for over 45 years, the company conducts high-end antique, collectible, and decorative arts auctions throughout the year. Julia's has routinely establishes new world records through its sales events. The company consists of four key divisions, including rare firearms and militaria; fine and Asian art and antiques; lamps and glass; and important toy, dolls, and antique advertising. Each division is regarded for its excellence and is staffed with world-class specialists to insure fair and professional authentication, identification, and valuation services.
For more information on James D. Julia, Inc. and the company's Outstanding October Firearms Auction, please visit http://www.jamesdjulia.com or click here.