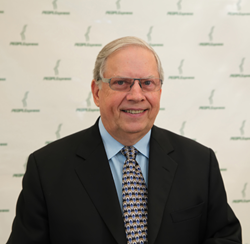 We're taking a fun, creative, and innovative approach to air travel
New York, NY (PRWEB) September 23, 2014
In 1981, a new low-cost airline took to the skies and gave travelers a good alternative to the larger airlines. The airline was called People Express. Today, a new airline is taking to the skies offering similar discounts. It's name? PEOPLExpress (PEX). But as the old automobile tagline might suggest, this is not your father's airline. Jeff Erickson, CEO of PEOPLExpress, went One-on-One with ExpertFlyer to explain how the airline is different from 35 years ago, and in some cases, how its culture for service and customer satisfaction, is still embraced and remains the same today.
"We're taking a fun, creative, and innovative approach to air travel and dispelling the myth that low air fares translate to low service or an impersonal experience," explained Jeff Erickson, CEO of PEOPLExpress. And he should know, having been the president and CEO of TWA and Reno Air for many years. "Our low-cost, a-la-carte service model is not unique to this industry but we are making the entire experience—from check-in to arrival—an enjoyable one. Greeting people with a smile and treating them with respect isn't revolutionary either, but it's what we do well and our customers respond in-kind."
Based in Newport News, VA. PEOPLExpress currently services eight cities including Boston, Pittsburgh, West Palm Beach, Atlanta, New Orleans, St. Petersburg/Clearwater, and Newark, where it all began 33 years ago. Service to Orlando International from Newport News and Charleston, WV. Will begin shortly.
Currently, Vision Airlines will operate the aircraft, which is operating under the name PEOPLExpress, but Erickson anticipates PEOPLExpress will be certified as an independent airline in the near future. Until then, however, Vision airlines will operate the aircraft with their in-flight crews.
"PEOPLExpress is a brand that offers value to those familiar with the airline in the 1980s and continues to enjoy brand equity 30 years later," says Chris Lopinto, president and co-founder of ExpertFlyer.com. "There is certainly room, and an opportunity, for an airline to succeed, especially if it maintains a focus on select markets that may be underserved due to the continued consolidation of larger airlines."
Now with its own tagline, "It's Time to Fly Smart," PEOPLExpress is helping to eliminate some of the high walk-up fares associated with non-stop service. In addition, it is hoping to create a menu of amenities that allow customers to pay for they need for their own personal comfort, and hoping the process is a fun, creative, and innovative experience for travelers.
To read the entire interview with Jeff Erickson, please visit ExpertFlyer's blog.
About PEOPLExpress
Vision Airlines, Inc. dba PEOPLExpress is taking flight and travelers are taking notice… for good reason! We built our company from the ground up with you, our customer, as our focus. From your travel experience, to the routes and planes that we fly, and even the professional Team Members we've selected to serve you, your safety, comfort and enjoyment are our primary concerns.
Let's face facts… air travel has become an unpleasant, difficult, and costly experience for many travelers. We've seen the Facebook posts, Tweets and YouTube videos and we agree with you. It's time for a change… a fun, creative, and innovative approach to air travel, whether your trip is for business, family trips, or an exciting vacation. It's time to dispel the myth that low air fares have to mean poor service or an impersonal experience. It's time to Fly Smart!™
We have developed a low cost, a la carte service model which allows you to create a customized travel product that reflects your wishes and budget. You can choose to fly at an ultra-low price with friendly and attentive service, but minimal frills, or you can opt to purchase the "extras" you want to make your trip more enjoyable, such as priority boarding, pre-assigned seating, or an upgrade to one of our Living Large™ seats, which offer more personal space.
Regardless of the trip you design for yourself, you will experience our commitment to restoring the concepts of Respect, Value, and Excitement to air travel. By offering flights, on a convenient schedule, to cities that are underserved, with service that is both friendly and personal, our goal is to create a memorable travel experience. And, of course, you can count on us to make it affordable, so that air travel is accessible to everyone!
About ExpertFlyer.com
Each month, ExpertFlyer's One-on-One blog goes face-to-face with the travel industry's leading decision makers to discuss and address topics relevant to many of today's business and frequent travelers.
ExpertFlyer.com was conceived and created by an eclectic team consisting of a veteran elite tier frequent flyer, an airline captain and corporate travel manager, and information technology professionals to deliver a 24/7 real time powerful air travel information service. The company provides its subscribers and corporate travel managers alike with a complete, concise and efficient way to access the ever-changing details of worldwide air travel information. For more information, please visit expertflyer.com.
Stuck in the middle seat again? Download the free Seat Alerts app from ExpertFlyer and get the window or aisle seat without hassle or frustration.
# # #